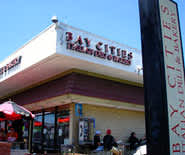 Bay Cities Italian Market and Deli: Santa Monica, CA
Mention Bay Cities to anyone familiar with the Westside and their enthusiastic response will invariably be, "They have the BEST sandwiches." In fact, fans insist that said sandwiches are among the best you can get on the entire West Coast. And yet, there is far more to Bay Cities than their highly desired Godmother sandwich, stacked high with genoa salami, mortadella, coppocola, ham, prosciutto, and provolone.
Since 1925, Bay Cities Italian Market and Deli has provided Santa Monica with an unparalleled selection of Italian goodies. Shelves are packed with dozens of varieties of olives, capers, tapenade, marinated artichokes, olive oils, and vinegars. Further down you can find jars of dried spices, cans of San Marzano tomatoes, bags of polenta, faro, and Arborio rice. They have a nice little cheese case, and have a tempting assortment of cured meats. The back of the store is lined with refrigerated cases filled with puff pastry, freshly made pasta and sauces. Warm loaves of crusty bread in all shapes and sizes come out off the oven every hour, all day long.
Although they specialize primarily in Italian foods, they also have a surprisingly plentiful assortment of Argentine, Greek, French, Middle Eastern, and Asian groceries. Bay Cities has a pretty well stocked wine department and they even sell cookbooks and cookware, including the Mario Batali line of pots and pans.
Be forewarned that although they have a parking lot, trying to find a spot is tricky. The store is usually clogged with people bellying up to the deli case but it's more than worth it.
Published: Sep 29, 2006