This Company Wants You to Take a Roast Beef-Scented Bath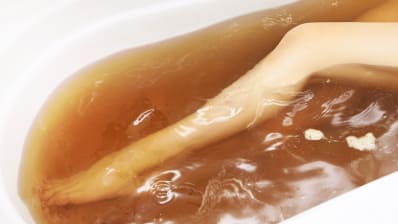 (Image credit: elenavolf/Shutterstock)
There are few greater joys after a long, stressful day than getting home, queueing up a bit of relaxing music, lighting a few candles, and settling in to a freshly drawn, piping-hot bath. Most people choose citrus, floral, or woodsy scents when they use bath bombs or salts, but one company thinks we should try a new type of scent: roast beef.
The "World Famous Roast Beef Sandwich Reality Bath Soak" by Amazon shop Gears Out delivers a mouthful of a title while trying to evoke a mouthful of French dip sandwich. If you use bath salts, they're proven to ease stress, eliminate toxins, and relax muscle pain, but one wonders if the smell of an au jus would stress someone out a little more than it would relax them.
According to their description, the bath salts are scented with "brown sugar and fig," but no sliced deli meat — so maybe this actually smells kind of nice?
Buy now: Roast Beef Sandwich Bath Soak, $18
It makes one wonder why we all want to smell like some delicious-smelling foods, but not other ones. For instance, there are all sorts of perfumes that smell of bacon and other meat, flame-grilled cheeseburger, and Stilton cheese that seem like jokes, but we gladly purchase salt and pepper, rosemary, fruit scents, and more that aren't manufactured as laughable gifts for a white elephant party.
The trend of food-scented baths seems to be a lucrative one, though. Etsy shop Bathesda Boutique regularly sells out of a pizza-scented bath bomb which smells like a hot slice of the iconic food. The online shop also sells a breakfast-scented bath bomb that emits odors of bacon, butter, and coffee (and I can't believe I'm saying this, but this one sounds spectacular and I want it?) .
Bathing in food also has a high-end side. In addition to spas around the world that offer treatments with Chardonnay, blue corn, and even ramen noodles, luxury spa Misugi Resort near Tsu, Mie Perfecture in Japan offers a relaxing soak in ... craft beer.
"The yeast in the beer gives you very smooth skin and the hops have an antibacterial power that is also good for your skin," part owner of Misugi Resort and brewmaster Youki Nakagawa tells Travel and Leisure. "On top of that, the CO2 in the beer is good for blood circulation." While none of that is scientifically proven, the on-site dark lager they use is brewed with black and sake rice and finished off with warm natural spring water from the snowy mountains of Japan.
Now that sounds like a mixture I'd want to take a dip in.
Have you ever used food-scented bath salts? Tell us in the comments!
Kitchn supports our readers with carefully chosen product recommendations to improve life at home. You support us through our independently chosen links, many of which earn us a commission.