A Visit with Colin Howard of House Spirits Distillery in Portland, Oregon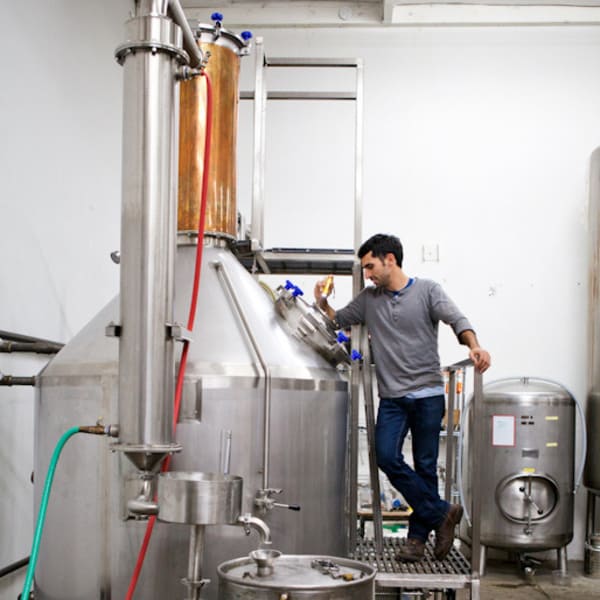 Who: Colin Howard
What: Lead Distiller at House Spirits Distillery
Where: Portland, Oregon
Colin Howard of House Spirits Distillery—makers of the much-adored (and personal favorite!) Aviation Gin—leads a small distillation team in Portland, where he's responsible for dreaming up new spirits (depending on season and collaboration) all in service of the quality products that put this company on the map in 2005. Here's one more reason to celebrate an artisan maker in Portland, Oregon. Bottoms up!
House Spirits Distillery uses traditional methods and inventive ideas to make simple, spectacular spirits. They are rooted in tradition but not bound to it. Colin and the crew are able to tweak and experiment within the ingredients and temperatures they use. Even the still was customized to suit their tastes!
This Willy Wonka factory for grownups is humble in size but grand in personality and passion. Colin explained to me that Portland's climate is perfect for spirits; with the grey wet winters and mellow summers, flavors are able to meld in a unique and sensuous fashion. (The weather in Oregon occurs in stark contrast to other American spirit–producing locations such as Kentucky, with the intense Southern summers. Glad to know our clouds are good for something!)
The Test Kitchen
The distillery and tasting room in the South East warehouse (dubbed "Distillery Row" by Portlanders because of the five other distillers within walking distance) are housed within about 2,000 square feet. For the amount of gin they produce/distribute (80% of their production is Aviation Gin), this small space feels humble and remarkable. They have a 700 gallon still for gin and a 400 gallon still for their other products.
The spirits are aged in Ozark barrels they get from Missouri and the wood imparts a certain flavor and texture to each of the spirits. The tasting room can fit up to 60 people at once and employees for this part of the business are hired based on their ability to control the crowd and showcase their quality goods.
The Secret Sauce
Colin's secret is the creamy, balanced taste of all the spirits he makes. Each one is velvety, full of pluck and vigor! It stands on its own as a great drink and blends beautifully into cocktails. Aviation gin, in particular, is nuanced, elegant, floral and mellow. The AquaVit, their second best seller, is exotic to an American palate, full of anise and caraway. It's strong but not overwhelming and makes the perfect backbone in a Bloody Mary. Their rum inspires one to actually enjoy rum! None of that sappy, sticky sweet, sunscreen tasting stuff — this rum is full of freshness and tropics. It transported me straight into a coconut I never wanted to leave. The winning combination of the straight taste and the mixability of each spirit is what makes House Spirits so divine.
The Business Plan
This small distillery has grown tremendously over the years. Their gin can be found in 17 states and nine different countries, and even in a few states' Costcos. They know their audience, don't attempt shortcuts, and keep making consistently high-end, unique drinking experiences. They educate consumers on unknown flavor profiles and showcase all kinds of bitters, ingredients and compliments to their spirits. The tasting room and educational piece seem to play a large part in their success. The people who work here are passionate, informed and excited to share!
The Community
Colin and his team are always looking out for unique partnership opportunities, so when Stumptown Coffee approached them about creating a coffee liqueur, they made it happen (to astonishingly tasty results, I will add). When a neighborhood farmer had more plums than he knew what to do with, they made a limited edition plum spirit sold exclusively at the tasting room. They also love inviting bartenders into their space and allowing them to do their thing, give feedback, and explore the spirits. This has a snowball effect; the best bars in Portland serve this local company's spirits, Portlanders get excited about what's in their backyard, and the cycle continues.
6 Quick Questions for Colin
Favorite online resources for your kitchen?
I've actually rarely used the internet for the kitchen outside of design ideas for our remodel at home. I love secondhand shops for cookware and restaurants and cookbooks for recipes.
The one thing you can't live without?
I really do love things on two wheels. Bicycle or motorcycle. Certainly wouldn't want to be without either.
If you could spend a day with anyone, who would it be and why?
An all-day BBQ with some good friends sounds great to me right now. Although, a motorcycle trip down the Oregon coast with Steve McQueen and Paul Newman would be fantastic.
What's in your Google Reader?
Honestly I had to look up "Google Reader."
If you won a million dollars, what would you do with it?
So many things, but I'm sure it would start with dinner (at the restaurant below) and a movie.
What's your favorite cocktail using Aviation Gin?
The Aviation Gimlet at Biwa in Portland.
Thanks, Colin!
Related: How Vodka Goes from Grain to Bottle: Middle West Spirits in Columbus, Ohio
(Images: Leela Cyd Ross)