At Home in New Orleans with Chefs Kristen Essig & Michael Stoltzfus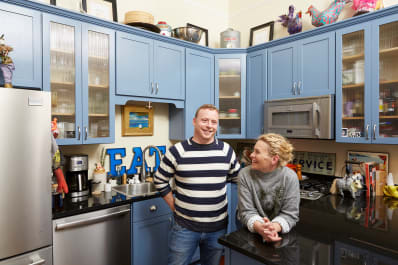 (Image credit: Tara Donne)
Who: Kristen Essig and Michael Stoltzfus, chefs and partners at Coquette
Where: New Orleans, LA
Partners in work and in life, chefs Kristen Essig and Michael Stolzfus are basically #relationshipgoals. Not only is this chef couple killing it at their new Southern restaurant Coquette (it's the first stop on our Neighborhood Walk and one of the best meals we had during our all-too-brief visit), but their art-filled apartment is also seriously enviable. (As in, we're ready to move in. Is that okay, guys?)
Kristen and Michael rent one half of a two-family shotgun at the very start of the Lower Garden District. "We like not having to worry about anything except our restaurant," Kristen explains.
They do love the neighborhood and they are thinking about buying, but they're loathe to give up their current kitchen. And we can see why.
A Visit with Kristen Essig & Michael Stoltzfus in Their Kitchen
Tell us more about your kitchen. Did you do any renovations?
The kitchen is why we rented this place. If we're not sleeping, we're here 100 percent of the time. The building has been in the landlord's family for more than 100 years and they had long-term tenants who lived here before us. Once the old tenants moved out, they renovated. All the cabinets are new. It's all hand-built. We love it!
The only thing we did was to convert the second bedroom into a dining room. We would like to have a second guest room, but we cook, so we have to have a dining room.
What's the thing you love most about your kitchen?
The thing I like, honestly, is the footprint. It's easy to cook and clean in our kitchen. It never gets out of control. It also has outlets with built-in chargers and multi-colored lights that run around the top of the cabinets.
Do you have a favorite tool?
Probably my chitarra. It means guitar in Italian. You roll the pasta out, lay it on top, and then roll it through. This is an Italian grandma thing.
Also (speaking of grandmas): My grandmother's potato ricer.
Your kitchen (and your home) is filled with art. Do you have a favorite keepsake?
I love my meat doll, my papier-mâché roosters, my banana vase (pronounced ba-NAH-NAH), and my Buddha. We spent two weeks in Copenhagen and there's this store called Tiger, which is where I bought this Buddha. I brought it all the way home and now they have a shop in New York. But I still love it.
What do you like to cook at home?
We make a lot of pho and broths and soups in big batches. We do a lot of chicken noodle soup. And Michael loves egg sandwiches on a Martin's potato roll with American cheese.
What do you always have in your fridge?
La Croix, Campari Antica vermouth, and orange juice.
(Image credit: Rotem Raffe)
Thanks for the visit, Kristen and Michael! Get to know the neighborhood where they live and cook with our Neighborhood Walk in the Garden District — and be sure to stop by Coquette the next time you're in New Orleans.