At Home in New Orleans with Chef Nina Compton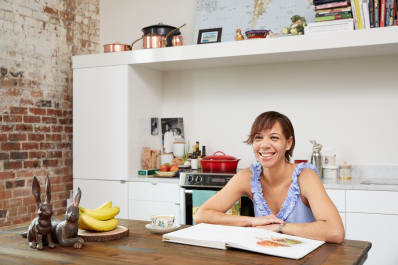 (Image credit: Tara Donne)
Who: Nina Compton, chef-owner of Compère Lapin
Where: New Orleans, Louisiana
You might already know about Nina Compton from BRAVO's hit television show Top Chef; the 38-year-old St. Lucia native was the Season 11 runner-up and the fan favorite. But if you don't, my guess is you will soon.
Less than two years ago, Nina and her husband, Larry Miller, moved from Miami, where she worked at Scott Conant's Scarpetta, to New Orleans to open a restaurant of their own: Compère Lapin in the Old 77 Hotel & Chandlery. With Nina in the kitchen, turning out Caribbean-inspired dishes like conch croquettes with pickled pineapple tartar sauce, tuna tartare with crispy bananas, and curried goat with sweet potato gnocchi and cashews, and Larry running the dining room, the restaurant quickly got attention.
(Image credit: Tara Donne)
Local restaurant critic Brett Anderson tapped it as one of the top five openings of 2015 and named it Restaurant of the Year in 2016. Not bad for someone who isn't from New Orleans and isn't serving gumbo or étouffée!
Right now, her job is pretty much her life: Last year, the couple had taken off for Mardi Gras to watch the parades and the restaurant was so busy Nina jumped into the kitchen — with her purple wig on. Her apartment in the Rice Mill Lofts in the Bywater is her retreat — and her kitchen is, she admits, mostly for making coffee and eating takeout.
(Image credit: Tara Donne)
A Visit with Nina Compton in Her Kitchen
How did you find your kitchen?
Before we moved here, I had this whole fantasy of this French Quarter house or living in the Garden District. But when we started looking around, they were really old or too big or too small.
Larry found this place and, at first I was like, No, this is like living in Miami. But, actually, I like the feeling: the brick, the light. And I love the neighborhood. It's pretty quiet, people are very friendly, and it has a really nice neighborhood feel. But you're still very close to everything. You can ride your bike into town.
Did you make any changes or renovations?
The building was abandoned a couple years ago and completely renovated, so we didn't have to do anything. It's open and very efficient. We just added some furniture and my cookbooks.
Tell us about your kitchen table.
We bought it on the West Bank. It's more suburban, with more families and very spread out. Culturally there's a lot going on over there. There's a huge Vietnamese population and a big Asian grocery store, Hong Kong Market, where you can get everything from banh mi to live fish to crabs — you can spend a while there.
(Image credit: Tara Donne)
You have a lot of cookbooks. Any favorites?
The Larousse Gastronomique my mom gave me; Mark Vetri's Mastering Pasta is something I picked up while working for Scott Conant in Miami; my sous chef gave me John Besh's My New Orleans; and Essential Cuisine by Michel Bras (he's one of those chefs who has been around for a very long time; he's a pioneer).
You also have a lot of bunnies ...
Compère Lapin means Brother Rabbit. It's a traditional Caribbean folktale that all St. Lucian children know. When we opened, someone brought in a real bunny and he wore a top hat and we fed him. His name was Monsieur something. And then people just started giving us bunnies.
You have no idea how many bunnies are out there! We have bunny salt-and-pepper shakers. We have a Mardi Gras bunny. We have bunny plates. And the bunny rabbit cocktail shaker was a gift from our bartender Abigail Gullo.
What do you like to cook in your kitchen?
I make my French press every morning and drink it in a coffee cup from my mom's china collection. As she's getting older, she's unloading all this stuff. Every time I go home, she packs a little something.
---
Nina Compton's 5 Best Bites in the Bywater
---
Thanks for the visit, Nina! Find out more about her restaurant, Compère Lapin (don't miss her curried goat if you're in town).
Kitchn supports our readers with carefully chosen product recommendations to improve life at home. You support us through our independently chosen links, many of which earn us a commission.