Arjen's Dutch Curiosity Kitchen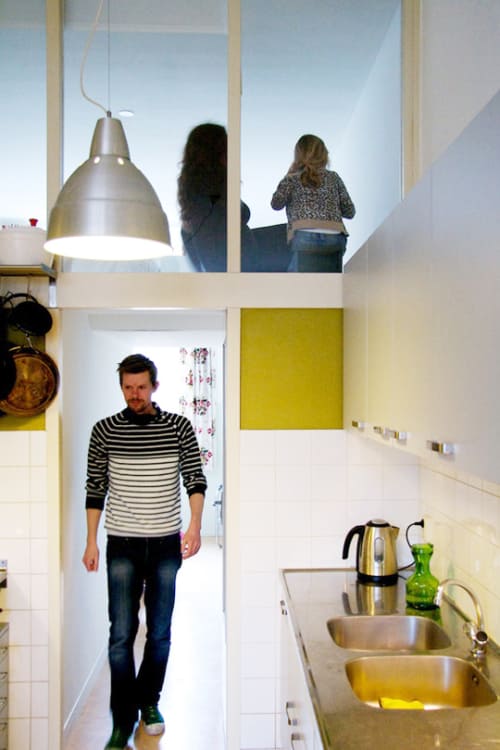 Architect Arjen lives with his family in a picturesque little corner of Amsterdam, in an imposing 18th century building originally designed as military barracks. Their kitchen is typical Dutch style, with two walls of parallel kitchen units, divided by a narrow passage, which opens out into a wider dining and social area. This kitchen is a cosy, yet open space that combines the old and the new, the wild and the domesticated. 
As soon as I walk in I'm struck by the antique stuffed dear head mounted on the wall just above the KitchenAid, a piece of kitchen equipment that Arjen admits these days he wouldn't be without! This wonderful Dutch kitchen is full of curiosities and otherworldly finds, each one representing a personal story, memorable meal or exotic location. 
The open plan kitchen is at the heart of Arjen's home. It lies at the centre of the house with the dining area at one end and an open passageway into the south facing, light flooded breakfast room at the opposite end. The breakfast room has been personally designed and built by hand and is an intimate space, where many a pancake and Dutch waffle are enjoyed! The self-crafted master bedroom is directly above the kitchen and observes all culinary and social antics through large, full-length glass windows. 
Indulgence isn't representative of Dutch mentality; design and functionality are the name of the game in this town. Although Arjen balks and cringes at one of my questions on indulgent kitchen purchases, there is evidence of his indulgence in foreign travel everywhere in his kitchen. From the framed Hornet found in a France camp site to the Iranian blankets stacked next to the sofa, the Indian picnic set and the west wall covered with an antique illustrations of Rome. All of these cherished curiosities and treasures are showcased in Arjen's most cherished space and reflect his passion for adventure both out in the world and right here in his kitchen. 
10 Questions for Arjen (and His Kitchen)
1. What inspires your kitchen and your cooking?

The world. I like to think of my kitchen as an international space, a place where I can experiment with international flavours and influences. 
2. What is your favorite kitchen tool or element?

3. What's the most memorable meal you've ever cooked in this kitchen?

We throw a big Boxing Day dinner every year for 15 of our closest family and friends and they are always memo- rable occasions. Last year we made a 9-course dinner for 15 people. It took three days to prepare, was inspired by 'The Great British Food Revival' and included rabbit and wild game. 
4. The biggest challenge in your kitchen:

Space. I'd really like more counter space - especially as the family like to cook together, it's our time together. 
5. Is there anything you wish you had done differently?

Not really, we tried to make the best use of the space and although we're thinking about adding some more units for extra storage and counter space, that's just an extra not a replacement. 
6. Biggest indulgence or splurge in the kitchen:

There are no big indulgences! 
7. Is there anything you hope to add or improve in your kitchen?

Yes we'd like to add in some more units to create more counter space and we'll probably look at replacing the unit doors quite soon. 
8. How would you describe your cooking style?

International or traditional (Dutch) with an international twist - I like to add my favourite Indian spices to a typical Dutch hutspot or boerenkool met worst.
I don't tend to plan meals in advance, I head over to the local outdoor market and take inspiration form what looks fresh and the sights and smells of what's cooking on the stalls. I place an emphasis on fresh, good quality ingredients. 
9. Best cooking advice or tip you ever received:

I used to watch a program called 'Ready, Steady Cook' where chefs would compete to win over the audience with their culinary prowess. My favourite chef at the time (Nick Nairn) never managed to win, despite making what I thought were always the most interesting dishes. He taught me a lot over the years! 
10. What are you cooking this week?

Big batches of lasagne for my step daughter's 18th birthday party. We'll have a lot of teenagers to feed! 
Resources of Note:
Kitchen Aid
Espresso Machine: Quick Mill (mod. 02835)
Dining room chairs found at a Parisian flea market Marché de Porte de Vanves
75015, metro: Porte de Vanves 
Thank you so much for letting us peek into your kitchen!
Share your own kitchen renovation or improvement!
We're always looking for real kitchens from real cooks.
Show us your kitchen here!
Related: Peek Into the Kitchen of Yvette van Boven Chef & Author of Home Made
Post Contributed and Photographed by Nicola Tordoff-Sohne and Mara Pellizzari
See more from them at their blog → La Dolce Eater