Appetizer Recipe: Queso Fundido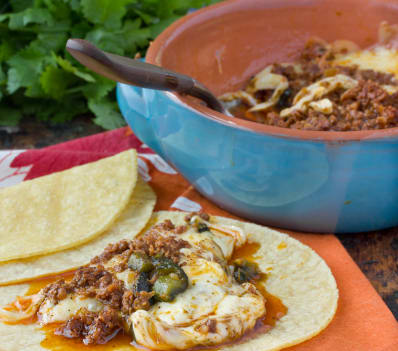 I've got a thing for hot, melty cheese. (I've got a thing for hot, melty anything.) This queso fundido is one of my all-time favorite indulgences. It's ooey, gooey, and perfect for sharing, although you probably won't want to.
I grew up loving Tex-Mex white queso (still do) but what I really crave these days is a big bowl of queso fundido. I first discovered the dip at a hole-in-the-wall joint in Los Angeles — their version was made with mind-blowing fresh quesillo — and I've had an appetizer crush on it ever since.

So what is queso fundido exactly? Well some people compare it to Swiss fondue, but I think it's in a whole different category. It doesn't have flour or cornstarch to prevent separation (although some do) or alcohol as a flavor boost (it doesn't need to). The cheese pulls and stretches with a mind of its own, and roasted peppers and chorizo provide plenty of sweet heat. You can dunk things into it, but I think it's best slathered on a toasty corn tortilla. Call me crazy, but I love those juices dripping down my arms as I happily munch on my fundido taco. Bliss!

This cheesy dip is super decadent for sure, so I usually save it for colder weather occasions. It fits perfectly into any fall weekend repertoire; it was practically made for football. Serve up a pot of queso fundido for your hungriest friends and watch it get devoured. Just make sure to leave plenty of time for a nap...
Queso Fundido
2

poblano peppers

1

small jalapeño pepper

2

tablespoons

canola oil

12

ounces

Mexican pork chorizo sausage

1

yellow onion, finely chopped

16

ounces

(about 4 cups) shredded Mexican melting cheese (See Recipe Notes)

Corn tortillas, for serving
Place the poblano and jalapeño pepper on a sheet pan and cook directly under broiler, turning occasionally, until blackened on all sides, 6 to 8 minutes. Remove from the oven. Once cool enough to handle, chop and set aside.
Preheat oven to 425°F. Heat the oil in a heavy saucepan oven medium-high heat. Add chorizo and sauté until cooked, about 4 to 6 minutes. Using a slotted spoon, transfer to a bowl and set aside.
Add onion and roasted peppers to the skillet and cook until onion is softened, about 5 minutes. Transfer pepper mixture to the bottom of a medium oven-proof serving dish, followed by the cheese. Top with the cooked chorizo and cover tightly with aluminum foil. Wrap stack of tortillas in aluminum foil.
Fill a roasting pan or baking dish halfway up with hot water. Place the baking dish inside of the water bath and transfer to the oven. Place the tortillas on another rack in the oven. Bake until the cheese is melted and gooey, 20 to 25 minutes. Serve immediately with warm tortillas.
Recipe Notes
Popular Mexican melting cheeses include quesadilla, chihuahua, asadero, and quesillo. You can also substitute Monterey Jack, mozzarella, or Muenster cheese.
(Images: Nealey Dozier)