Anthony Bourdain's Parts Unknown Is Leaving Netflix at the End of the Month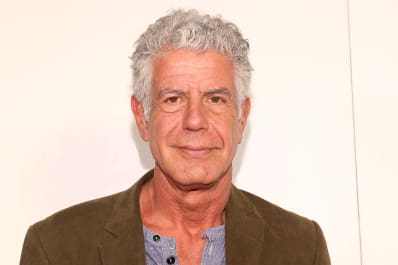 (Image credit: Robin Marchant/Stringer/Getty Images)
If you've been catching up on or revisiting the CNN travel series Anthony Bourdain: Parts Unknown since the host and writer's death this past June 8, it's time to hurry through that binge-watch. On October 1, Netflix will be pulling all of the eight seasons it's currently showing. The streaming service had already pushed this date back after planning for a pull date of June 16.
The silver lining to this news is that the 12th and final season of the show will premiere on CNN September 23, the day after it's first viewed at the Tribeca TV Festival, according to Eater.
This season will include seven episodes, with five set in new regions and two retrospectives on Bourdain's life and work. Only the first episode, set in Kenya, will include the host's narration, a hallmark of his shows since he began his TV career with A Cook's Tour on Food Network in 2002. The remaining four fresh episodes are set in Asturias, Spain, Indonesia, West Texas, and Manhattan's Lower East Side; narration was not recorded for these before Bourdain's passing.
Read more: New Episodes of Anthony Bourdain's Parts Unknown Will Air This Fall
As for the two specials, one will look at how Bourdain changed the landscape of food and travel through his unique perspective, while the other will focus on his relationship to the show's crew — the people who were with him during the good and the bad, the stressful and the majestic.

In a prepared statement quoted by Eater, Amy Entelis, executive vice president of talent and content development for CNN Worldwide, said, "We believed early on that Parts Unknown would be an exceptional series with an incomparable host and stellar production team. We are grateful to have collaborated with such an incredibly talented friend and colleague whose prolific body of work and extraordinary personality touched so many."