New Episodes of Anthony Bourdain's Parts Unknown Will Air This Fall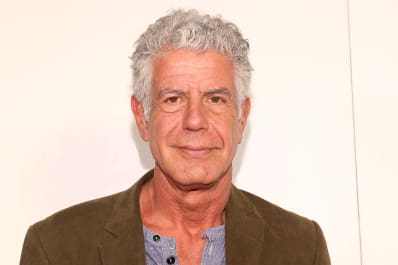 (Image credit: Robin Marchant/Stringer/Getty Images)
After Bourdain's death, it was unclear what would happen with the final episodes of his show, but today we got some good news. CNN says there was enough footage and material to make one last season, with five new episodes shot with Bourdain, and a series finale to say goodbye. The final season will be airing this fall.
According to the LA Times, the last season of Parts Unknown will see Bourdain traveling to Kenya, Texas, Spain, Indonesia, and Manhattan's Lower East Side. The Kenya episode was completed before Bourdain's death, so that one will feature Bourdain's signature narration. The other four episodes will be missing the narration, but the directors are working with what they have, and the episodes will reportedly be completed with audio of Bourdain and others that was recorded during filming.
"Each one will feel slightly different depending on what's gathered in the field," said Amy Entelis, CNN's executive vice president of talent and content. "They will have the full presence of Tony because you'll see him, you'll hear him, you'll watch him. That layer of his narration will be missing, but it will be replaced by other voices of people who are in the episodes."
CNN says it will not be continuing Parts Unknown with a different host. Parts Unknown may have been one of the most successful original series on CNN, but it was Bourdain's show, and it can't really continue without him.
Parts Unknown will end with two retrospective episodes. The second-to-last one to air will be an hour-long episode about the making of the show, with interviews with the various people who have worked on it over the years. The series will end with an hour-long tribute to Bourdain, with words from his friends and fans about who he was and how he affected the world.
CNN has not yet announced when the new season will premiere, but it will likely be sometime this fall.