Anthony Bourdain's Trip to Indonesia Is a Valuable Lesson on Living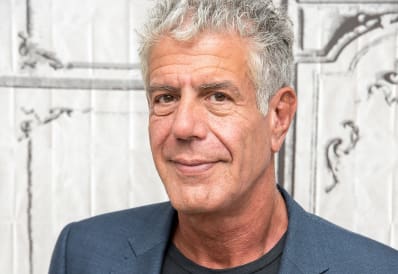 (Image credit: Mike Pont/Getty Images)
In this week's episode of Parts Unknown, Anthony Bourdain visits the tropical farms, bustling cities, and trademark heavenly beaches in Indonesia, which Bourdain says is the world's 5th largest country. (It actually is the 4th largest by population.) The episode touches on the flavors of Indonesia, of course, but it also speaks volumes on the cyclical nature of life and death.
Parts Unknown is known for its deep dive into not only the food of a place, but also the culture surrounding it. This episode is particularly moving based on the shared subtext between the host and subject.
"On September 28, a powerful earthquake and tsunami devastated portions of Indonesia," a CNN placard reads before any footage was shown. "It left in its wake a trail of death, destruction, and numerous injuries." The 7.5-magnitude earthquake on the Indonesian island of Palu and its resulting tsunami have caused over 1,400 deaths and billions of dollars in damage. In total, an estimated 2.4 million people were affected by the disaster.
Just over three months before the Indonesian tsunami, on June 8, 2018, the world was shocked and saddened to hear of host Anthony Bourdain's death by suicide while he was filming an episode of this very same show in France. So, while viewing this episode, it's impossible to disassociate this man on a beautiful trip from the whole story — of both him and the country he's enjoying.
This Episode Really Isn't About Food
The first footage of Indonesian culture we actually see is a fable told in the Indonesian tradition of shadow puppetry. In the tale, a man is sent on a quest. During the journey he finds his parents in the afterlife, where even after their deaths they teach him a deep lesson — and by the end, he finds that life and death, hell and heaven, and virtue and despair are cyclical ideas. There is constant mention during the episode of how different the Indonesian view of opposites are. There, the ideas coexist more than they oppose each other.
The focus of this episode is less on the food and more on the culture, although every dish Bourdain and his friends enjoy look fantastic. While he explains and enjoys the slow-cooked curries, the cassava and anchovy bowls, and the balados (any dish stir-fried in a tomato, chili, and red shallot paste) of Padang food, much of his time with his meal partners are spent discussing the culture and history of these islands that make up the Asian nation.
"They say if you really want to know and try every single dish in Indonesia, you have to live here for 40 years," his unnamed seatmate says. "Every single area has its own specialty."
When You Travel, Go Outside Your Comfort Zone
During the show, we see Bourdain visit and deeply enjoy the cities of Jakarta, Bajau Laut, and, less so, Bali. You can see Bourdain's disdain (as much as you can through his sunglasses) for the globalist and sanitized resort that Bali has turned into, laying curses on Jimmy Buffet, wagyu beef sliders, and the waste generated by tourists on vacation, all while enjoying a bright fruity cocktail at a tropical resort. The man has a point, though — he says all this in front of tourists relaxing, for some reason, at a Balian resort's pool. (Y'all, Indonesia literally has the ocean everywhere. Why did these people travel to hang with familiar people at the hotel pool?)
This is why Bourdain was so great in this show, telling us and showing us that we should allow ourselves to discover new things, places, and flavors.
Later in the episode, Bourdain visits a British man who has lived in Indonesia since 1965 and is one of the world's foremost experts on the "Nation of Fourteen Thousand Islands," explorer and author Dr. Lawrence Blair. After enjoying a naturally occurring pool (the ocean) on the deck of Blair's boat, they sit at a wooden table for a meal.
"In the West, we tend to think of things in a binary way," Bourdain says to Blair while they both enjoy two seriously large lobsters right on the beach. As Blair takes a single forkful that looks like enough to make a lobster roll, Bourdain continues. "There's good and evil, life, death, you've seen every variety of human behaviour in this part of the world … always a notion of light and dark, good and evil, just not absolute ones."
Blair mentions that Indonesia uses "island of the gods" as a sort of unofficial slogan for tourism ads, but then adds, "it's equally an island of the demons."
Bourdain encouraged us to live with this in mind in all of his travels. A person who visits another country to experience things they have at home isn't a person who grows from the experience, and Bourdain's life is the embodiment of that idea.
Although absolutely no one could have guessed when this was filming, that idea of coexisting duality runs deeply in every shot of this moving hour of television. A man who is no longer with us on Earth appreciates a rich paradise of a place that's facing its own demons. It's easy to focus on only the up or the down of life, but perhaps we should always be thinking of both.
You can see the love Anthony Bourdain had for authentic food and distant (and local) cultures in his heart. Just because much of what we see in this episode isn't here anymore, doesn't mean that we shouldn't learn from it while we still are. In honor of Bourdain, I intend to go looking.
If you or someone you know is dealing with mental illness, there are ways to get help. Find resources, tips, and immediate help at Half of Us, or call the National Suicide Prevention Lifeline at 1-800-273-TALK.
To find ways to help Indonesia in the wake of the natural disaster, go to cnn.com.