You Need to Read This Fanfic About Anthony Bourdain in Narnia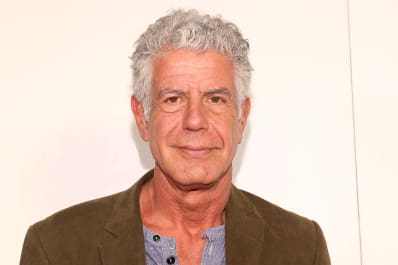 (Image credit: Robin Marchant/Stringer/Getty Images)
You can find fan fiction of anything on the internet. I've read fanfic about everything from The Sound of Music to Chef Boyardee, but somehow it never occurred to me to look for Anthony Bourdain's name on a fan fiction site. I can't believe I almost went my whole life without knowing that "No Reservations: Narnia" existed.
Fortunately, New Yorker food correspondent Helen Rosner knew about it, and she recommended the story this week. At one point she even got Bourdain himself to read it, and he told her it was "astonishingly well-written," if also a bit disturbing. Whatever you were planning on reading this weekend, you need to bump everything on your list down one notch to make room for it.
"No Reservations: Narnia" is a short story on fanfiction clearinghouse Archive of Our Own, written in 2010 by novelist Rachel Manija Brown, who asked the question "What if Anthony Bourdain went to Narnia?" and then made it happen.
The fictional Bourdain starts his Narnia trip in a foul mood, convinced he's in a land of "clean living and old-fashioned values," where teetotaling badgers wear waistcoats and eat bland food. He thinks Narnia looks like a mass-produced, old-timey novelty shop and gets halfway through a rant about how real food needs grit and sweat before a Talking Mouse pulls a sword on him for insulting Narnia's people and food.
It turns into a deep-dive into Narnian foodways, about the terroir of the butter and toffee-apple brandy. Brown did a ton of research into British food and based the style of her story on Bourdain's book A Cook's Tour: Global Adventures in Extreme Cuisines. She sounds just like him, too. She spins poetry about flash-fried fish, describes a hangover in so much detail you almost feel it, and even gets in a dig at PETA.
The magic of this fanfic isn't just the flawless way Brown captures Bourdain's voice, or the way she references the most minute bits of Narnia lore like a CS Lewis scholar. It feels like she really gets Bourdain. When the mouse calls him out for insulting Narnia, Brown's Bourdain's first response is to look at himself from the mouse's perspective and remember that he's a visitor there. He really appreciates the people who welcome him and his crew into their homes and share their food. In this story they're moles and werewolves, but Bourdain was like that in real life, too.
The ending of No Reservations: Narnia made me a bit teary, and I have to keep reminding myself that this is not a real thing that happened. But it's wonderful, and you should absolutely read it immediately.