Anthony Bourdain Says Eggs Are "The Perfect Food" in Last Episode of Parts Unknown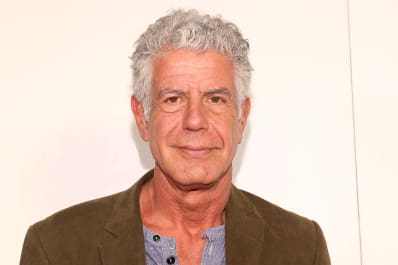 (Image credit: Robin Marchant/Stringer/Getty Images)
On November 11, the world said its final goodbyes to professional eater and the most insightful, influential world traveler to ever appear on television: Anthony Bourdain. In final episode of his long-running docu-series Parts Unknown, Bourdain revisited his dark past as a drug addict living (and cooking) on New York City's Lower East Side. He revisited some of his old haunts on the episode, including the home of his friend, musician John Lurie. Lurie served Bourdain a dish that prompted an appreciative response from the former chef: hard-boiled eggs.
"I am grateful and honored," Bourdain says. "Eggs, the perfect food."
Bourdain was probably one of the most adventurous eaters on the planet (other than Andrew Zimmern perhaps, who Bourdain admired). He willingly, even happily, tried food that might sound strange to an American audience (but are actually delicacies all over the world): fermented shark, ducks eggs, cobra heart, even seal eyeball. He rarely (if ever) turned down a meal. And yet, through all that, the hard-boiled egg — hardly the fanciest or most gourmet food in the world — still topped his list of favorite foods.
Of course, that's what many people loved about Bourdain: his complete lack of ego or snobbery when it came to food. He appreciated dishes that simply made him feel good, no matter their origins. This quality — the fact that he seemed unable to prematurely judge anyone or anything — made him the ideal host for a travel show that took him to the most remote corners of the world.
In the Lower East Side episode of Parts Unknown, Bourdain recalls a troubled past in which he ventured into the underbelly of the neighborhood for "heroin and the music." Still, he remembers the Lower East Side as a "very special place." No matter his past struggles, Bourdain brought his infectious excitement for all of life's small joys — eggs included — to everything he did, and he'll be missed.