An Easy Halloween Menu for Pumpkin Spice Lovers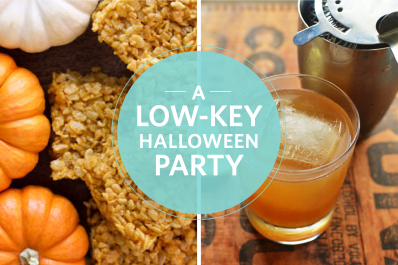 (Image credit: The Kitchn)
If you are way more into it being pumpkin spice season than Halloween, I'm going to show you how to put together a low-key party that celebrates the season more than the actual holiday of Halloween. You can pull it off with a three-ingredient cocktail and a batch of gooey pumpkin spice Rice Krispies treats. Here's how to make it happen.
A Halloween Menu for Pumpkin Spice Lovers
This simple Halloween menu celebrates the season with a honey-bourbon cocktail and a batch of pumpkin spice Rice Krispies treats. It comes together with plenty of make-ahead potential, and it's totally scalable. So no matter how many people you're hosting or how much time you have to prep, this made-for-fall menu will work for you.
THE MENU
Gold Rush Cocktail + Pumpkin Spice Rice Krispies Treats
The Gold Rush is basically the hot toddy's cooler cousin. It's a simple one — just bourbon, honey, and lemon juice shaken and served over ice. Want to get a head start? Mix all the ingredients for the drink together and store it in a jar or pitcher in the fridge. When the festivities get started, just add ice.
Classic Rice Krispies treats get a seasonal twist with pumpkin purée, a medley of warm fall spices, and all the gooey marshmallows you'd expect. Make these treats before guests arrive (even a day ahead), then keep them fresh by covering the batch and storing them in the fridge.
Boozy Budget Halloween
Good news! No matter your budget, it's easier than you think to have a boozy Halloween celebration — no elaborate menu, hours in the kitchen, or fancy cocktails required. This series is all about showing you how to celebrate simply. All you need is an easy-yet-impressive boozy beverage paired with a festive sweet treat. Think of it as your itty-bitty party plan!