This Cult-Favorite Brand Never Lets Us Down in the Freezer Aisle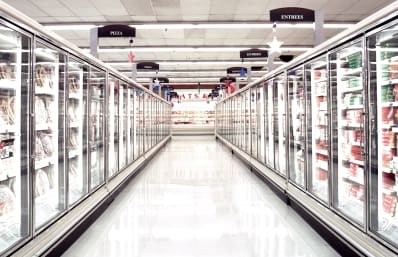 (Image credit: David J Turner/Getty Images)
I'm not the most brand-loyal shopper. My running shoes have had an assortment of logos, I've owned cars manufactured in a handful of countries, and my fridge is usually filled with whatever stuff was on sale that week. But ... BUT! ... there are three brands that I will always be 100 percent committed to: Heinz (for ketchup), Wendy's, and any frozen meal made by Amy's Kitchen.
Shopping for frozen food can be unspeakably depressing — especially ever since Target put that giant red "Meals for One" sign above its freezers — but I almost look forward to filling my cart with Amy's Cheese Enchiladas and Paneer Tikka. And burritos. And mac and cheese. And maybe the Family Size Cheese Enchiladas too, just to be safe.
If, for some reason, you're unfamiliar with Amy's, the company is the OG fully organic and completely meat-free frozen food company. It was founded in 1987 by Rachel and Andy Berliner, and the California couple still own the business. (It was named for their then-newborn daughter, Amy). When they started making tofu pot pies in their own kitchen, they couldn't have anticipated that it would eventually grow into a global company with 250-plus vegetarian items, 2,600 employees, and an estimated annual revenue of around half a billion dollars. "[There's] nothing miraculous about what we do — we just do it in a simple old-fashioned way," Andy tells CBS News.
No, it might not be miraculous. It is, however, consistently delicious. It's not all perfect (I'm not a fan of some of the straight-up vegetable bowls) but, to me, Amy's is consistently better than 99 percent of the other frozen food brands, and as someone who doesn't always make the best dietary choices (See: Wendy's) it always makes me feel like I'm doing something right for myself. All of their stuff is made from organic and non-GMO ingredients, and they also have more than 125 gluten-free options.
"Research shows that consumers still do not understand that organic food is non-GMO, plus a lot more," the Berliners collectively tell the Press-Democrat. "As grandparents, it feels more important than ever to us to educate consumers about the importance of choosing food that does the least harm." (Meanwhile, one set of my grandparents were ride-or-die with Hardee's, which was awesome in its own way.)
Even though the company has grown from baking a handful of pot pies in a home kitchen to one that makes more than 700,000 frozen meals every day, the brand still takes the extra step to make its offerings feel at least slightly homemade. Their burritos, for example, are still rolled by hand. "The Berliners believe it tastes better that way," says CBS News — and the Berliners are probably right.
In 2015, the couple opened Amy's Drive Thru in Rohnert Park, California, which has been called "America's first vegetarian, organic, gluten-free-optional fast-food restaurant." The company plans to open five more locations in northern California this year before ultimately taking it nation-wide. I've never been tempted to cheat on my beloved Wendy's — at least not until right now.
Do you love Amy's, too? What are your favorite frozen meals from the brand?
Kitchn supports our readers with carefully chosen product recommendations to improve life at home. You support us through our independently chosen links, many of which earn us a commission.