America's Best Towns If You Love Halloween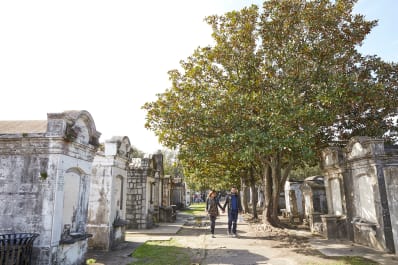 (Image credit: Tara Donne)
If you've never taken a Halloween-themed vacation, you're doing travel all wrong. Pack your bags and your vampire repellent! Whether you're on the hunt for haunted houses, a masquerade ball, or expert-level jack-o'-lanterns, there's something to trick or treat you in each of these extra-eerie cities. Enter if you dare!
1. Salem, MA
The infamous site of the witch trials of 1692, this tiny New England town draws more than 500,000 visitors every October. During the epic Festival of the Dead you'll find psychic fairs, a witchcraft expo, six haunted houses, and over 20 costume parties. But the acme of Halloween here is arguably the Salem Witches' Ball at the Hawthorne Hotel. Hundreds gather to summon the spirits alongside ritual drummers, witch doctors, and voodoo enthusiasts. Plus, you can snap a photo of the houses and cemetery featured in Hocus Pocus.
P.S.: Salem constantly celebrates its macabre past, offering trial re-enactments, walking tours, witch museums, and magic shops year-round.
2. Sleepy Hollow, NY
Washington Irving's legend of the Headless Horseman comes to life every autumn at Sleepy Hollow. For 31 days, the Hudson Valley town boasts haunted hayrides and lantern-lit tours through the Sleepy Hollow Cemetery, where Irving rests, to the crypt of vampire Barnabas Collins. The faint of heart may want to stick to the Great Jack-o'-Lantern Blaze at the 300-year-old Van Cortlandt Manor, or walk through the family-friendly estate at Lyndhurst Mansion, instead.
3. New Orleans, LA
A long history of voodoo and haunted mansions make the Big Easy an ideal destination for anyone looking for a good scare. Some even consider it the most haunted city in America. No matter what you choose, the open-container laws means the booze and the boos flow freely everywhere along the way.
Brave souls should venture to Myrtles Plantation, the rumored home to over a dozen ghosts, or take part in one of countless other frightful tours through Uptown's creepiest estates and the French Quarter's haunted pubs. Peruse voodoo shops in the French Quarter, then take a stroll through the infamously spooky St. Louis Cemetery No. 1, the burial place of the legendary "voodoo queen" Marie Laveau.
If you'd rather take advantage of NOLA's party scene, hit up the Voodoo Music and Arts festival, catch swag like doubloon medallions and voodoo dolls during the massive Krewe of Boo parade along Jackson Square, or dive into the fanfare of the gothic Anne Rice Vampire Ball.
4. Austin, TX
Halloween must help keep Austin weird because the capital city does it very, very well. Between an actual monster mash zombie ball, a dance party dedicated to Quentin Tarantino, and a Rocky Horror-themed burlesque and drag show, there is a spooky celebration for everyone. Between scares, you can snag a pint at Austin Eastciders, catch a family-friendly flick like Hocus Pocus in the park or Hotel Transylvania at Alamo Drafthouse, or hit up an '80s-themed dance party.
The Texas city also celebrates Dia de los Muertos (Day of the Dead), complete with traditional Mexican sugar skull face painting and costumes, a Latin music bash featuring Grammy award-winning Grupo Fantasma, and a fireworks show. But the coup here is catching the Mexic-Arte Museum's Viva la Vida Parade, the city's largest and longest-running Day of the Dead festival.
5. Estes Park, CO
Situated in this mountainside village, the historic and creepy Stanley Hotel inspired Stephen King to write his bone-chilling book, The Shining. If you're gutsy enough, head to the hotel to attend the scintillating masquerade "Shining Ball" or lend your detective skills to its murder-mystery dinner party.
If you're more into treats than tricks, stick to Main Street and Elkhorn Avenue: The community skips traditional door-to-door candy collecting in favor of a sweet street fair where you can get your fill of salted caramel apples and s'mores while shopkeepers fill kiddos' buckets with candy. During Halloween weekend, the city also hosts a "Boo-grass" music festival, haunted houses, square dancing, pumpkin carving, and a table-decorating contests.
6. St. Helens, OR
Fans of the cult-classic Disney movie Halloweentown should head to this small town where many of the scenes were filmed. Take part in the annual "Spirit of Halloweentown" festival — which includes horse rides, bounce houses, silent auctions, and a 5K road race — once you 'gram the giant pumpkin lighting and take a selfie in the haunted taxi. If you're lucky, you'll get to meet Marnie and other favorite characters: This year, the Halloweentown cast will be reuniting in St. Helens to honor their late costar Debbie Reynolds.
7. Los Angeles, CA
The world's largest Halloween street party runs along Santa Monica Boulevard, where upwards of 500,000 people gather for West Hollywood Carnaval. Costume contests, a parade, and live music performances all lead up to the main event, the "Queen of the Carnival" ceremony, where an A-list celeb (like Rihanna and Queen Latifah) is crowned royalty.
You could also opt for the terrifying itinerary at Universal Studios' Halloween Horror Nights, where you're sure to be chased by clowns, vampires, and the undead. And, if that's not enough fright, Griffith Park transforms into a creepy scene chock-full of zombies and haunted hay wagon rides.
Calling Halloween-lovers: Any cities we missed?