Americans in The Hague: Sonia's Warm and Welcoming International Kitchen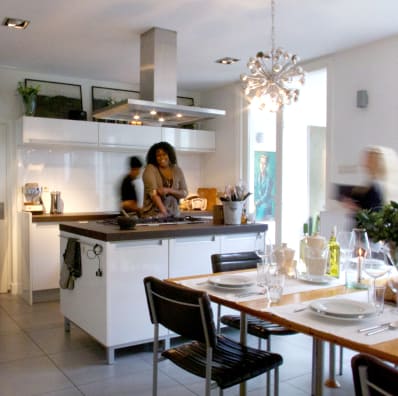 Who cooks and eats here: Sonia Schrofer-Sin and Frans Schrofer (plus lots of friends & family!)
Where: The Hague, the Netherlands
Rent or Own? Own
Welcome to Sonia's beautiful kitchen, and please make yourself at home; Sonia would insist on it! Originally from Chicago, Sonia moved to the Netherlands 27 years ago and now lives with her Dutch husband in a house that was formerly an old milk dairy. I'm not sure if it's the Dutch house and its history, the American hospitality, the incredible artwork, the two dining areas, or the adjacent grapevine-filled courtyard, but this is one incredibly welcoming kitchen!
If you're lucky enough to be a friend, neighbor or business associate of Sonia and Frans then you're in for a regular culinary treat as they entertain two to three times a week. Sounds like a lot of work but Sonia loves it; it's how she winds down after a busy day at work — with good friends, food and wine.
The kitchen takes center stage. It really is the heart and soul of the house — so much so that you get the impression the house was built around the kitchen. The second dining area is connected to the kitchen, as is the grapevine-filled courtyard and adjacent flat which regularly houses B&B guests. This is a sociable space that sees a lot of action, including fund-raisers, B&B guests (who hate to leave), dinner parties, family time and everything in-between. And the kitchen reflects the hostess perfectly: inspiring, international, creative, and warm.
When I visit Sonia, her close friend Frankie McCoy, a singer originally from San Francisco, is in the kitchen with her, helping prepare pulled pork for the evening's guests. (They had a girls-night-in planned.) During the cooking and banter, Frankie mentions that they should create a cookbook together. If it were up to me I'd give them their own show, filmed right here in this kitchen!
Today, the kitchen is styled with a nod to the old Dutch masters, the artists of the golden era who often captured the essence of a 17th century kitchen filled with produce. Sonia has emulated this with a plethora of autumn harvest fruits and vegetables, breads and Dutch cheeses as decorative centerpieces. The overall effect is stunning and very seasonal. We nibble on some of the decorations: sourdough bread, grape jam (made with grapes from the courtyard) and mushroom paté whilst admiring the surrounding furniture and art. Frans is a renowned furniture designer and much of the furniture within the house is his own design. The creative gene runs in the family; the artwork that hangs throughout the house was painted by his father, William Schrofer, a well-respected Dutch artist.
Sonia asks us if we're interested in red velvet cake and before we can answer she's on the phone to the The American Baking Company just a few doors down, telling us, "he makes the best cake I've ever tasted." And with that we're on our way to meet American cake baker Ken to pick up some sweet treats.
With the aromatic wafts of pulled pork slowly braising in the oven, brownies, blondies and our new American friends Sonia and Frankie, we could be forgiven for forgetting that we're in The Hague at all. We leave (after several hours) with a full belly, a tummy full of laughter and a carton of freshly harvested grapes. Beautiful furniture, fine art, gorgeous home cooking and The Hague's best American baker on speed dial — it's just great at the Schrofers!
10 Questions for Sonia (and Her Kitchen)
1. What inspires your kitchen and your cooking?
Experimentation and international cuisines. I travel for pleasure and work and adopt cultures through their cuisines. I get so excited about the foods I eat abroad, often times I ask the waiters if they can ask the cooks if I can peek into their kitchens. From Pakistan to Paris I have seen some amazing kitchens. No words need be spoken. As the chefs throw their oils and spices into their pots and pans, I take note and try to replicate these for my family when I return. I try to find similar recipes on line and tweak them till I get the desired results. Here in The Hague, I have a very international circle of foodie friends and we just love cooking for each other. With a Chinese ancestry, American background, and living in Europe, I feel like I am a multi-culti soup.
2. What is your favorite kitchen tool or element?
Would you believe the curtains? Since our kitchen is the heart of the house and connects with different spaces and the garden, we can play with the curtains as room dividers. In the winter we close them for heat insulation and to create an intimate enclosure during dinner. Another advantage is it helps with the acoustics. In the summer, we open them up for maximum light and they create a theatrical effect around the art.
3. What's the most memorable meal you've ever cooked in this kitchen?
Ha, that would be among the most disastrous meals 23 years ago when Frans tried to impress me with his cooking skills. He kept saying he was a great cook, but he burnt the lamb chops and served these "tuinbonen" as vegetables. He gave the excuse that I made him nervous! I had never seen these kinds of beans before – cooked in milk and water served with fried bacon. I was staring at the dish; they looked like shriveled old men looking back at me. To this day we call these beans "shriveled old men" and don't eat them very often despite their nutritional value.
4. The biggest challenge in your kitchen:
Storage space for spices, sauces, oils, condiments. I'm a hopeless squirrel when it comes to shopping, making and storing ingredients. Asian cuisine alone has a minimum give basic sauces. Fruit and wine vinegars can fill an entire cabinet. On return trips, my suitcase is filled with the local ingredients I can find. The customs officers must have a laugh every time they open my suitcase. Hot sauces, peppers, salts, honeys, oils, chutneys, even tortillas, breads, pasta.
5. Is there anything you wish you had done differently?
What I like and what I need are two different things. I would like to have everything exposed and at reach. But what I need is visual tranquility so the attention is on people and meal and not the pots and pans. I really envy those who can display so organized and beautifully. To facilitate this "invisible mess" I wish I had more drawers instead of shelving in the cabinets. I'd rather have a top-down view of what I have instead of digging for it at the back of the cabinet.
6. Biggest indulgence or splurge in the kitchen:
Art. The center piece of the kitchen is an abstract painting by our friend and stylist Peter Kauffman. If you look closely you can read some of the text embedded in it. The painting is about conversations (God of Love); it's about how we are all conversing with ourselves, about each other, but in the end the talk should be about love.
7. Is there anything you hope to add or improve in your kitchen?
Better music system and more space for my cookbooks. We have an internet radio, so every genre, country in the world is possible to listen to and create the right atmosphere for your meal. Mexican fiesta, French chanson, Ibiza party — we need to capture the vibe in surround sound speakers.
8. How would you describe your cooking style?
Lovingly arduous. Since we cook and converse simultaneously, dinners at Chez Schrofer take hours. We entertain a lot — at least 2-3 times a week we have friends over. We use food as entertainment, as therapy, as a glue to bind our friendships. So depending on the guest, the season, my mood, their mood and "phase of life" Frans and I plan the menu accordingly. I am the eclectic experimenter while Frans brings the "gezelligheid" to the table with the European touch (always candles, flowers) and flavors.
If the meal requires marinating for 48 hours or days in advance preparation I will go to the market shopping for the seasonal specials, then come home and start chopping, stewing. I enjoy engaging myself in every phase of the creative cooking process. I can't wait to get started and get totally intrigued with the combination of ingredients and can't wait till that dish is on the table.
9. Best cooking advice or tip you ever received:
My daughters tell me "Ma, don't use the cookbooks, use your imagination!"
10. What are you cooking this week?
The grapes in our garden can be harvested now, so it's homemade grape preserves (can you believe they don't sell it here!) with some sourdough bread and bourgondian farmer's paté. Frans is in Italy for a long weekend with the "boyz," so tonight my American friends are coming over, and we will make a potluck Creole dinner – saffron yellow rice and black beans, pulled pork, salad and a flour-less chocolate cake. American comfort food will make us feel less homesick.
Resources of Note:
Thank you so much for letting us peek into your kitchen!
Share your own kitchen renovation or improvement!
We're always looking for real kitchens from real cooks.
Show us your kitchen here!
(Images: Mara Pellizzari)