Amazon Is Offering 30-Minute Grocery Pickup at Select Whole Foods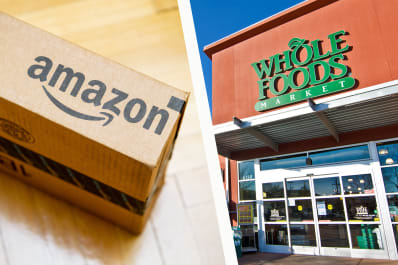 (Image credit: From Left to Right: Hadrian/Shutterstock; Whole Foods Market)
Amazon is working hard to figure out how to make shopping at Whole Foods as convenient as ordering something on Amazon.
Just last week Amazon and Whole Foods added a feature that lets customers use Alexa to order groceries from Whole Foods to be delivered to your house within two hours. And today it was announced that Amazon and Whole Foods are offering grocery pickup in just 30 minutes in a couple locations, and it'll be coming to more stores soon.
According to a press release, Amazon Prime members will be able to use the Prime Now app to order groceries from Whole Foods, and pick them up in just half an hour. Thirty-minute grocery pick-up is pretty unbelievable. I've never gotten in and out of a Whole Foods in 30 minutes in my life.
It's not just pantry items and household goods, either. The app can be used to buy fresh produce, meat, dairy products, things from the bakery, seafood, and even flowers. Then you can just select the "for pickup" option at checkout in the app, and the grocery order will be delivered right to your car. Orders over $35 can be picked up like this for free within an hour of placing the order. If you're in a hurry you can pay $4.99 and pick up the order within 30 minutes.
Amazon describes this as a way to get groceries quickly without having to leave your car, and they're really not kidding about that last bit. Participating Whole Foods stores will have a reserved parking space in front for Prime Now pickups. Just park in there, and a Whole Foods employee will bring out your order and put it in the car for you.

If you use the app to tell the store you're on your way to pick up your order, your groceries should be waiting at the pick-up spot by the time you get there.
Grocery stores that offer pick-up service like this can be extremely useful for a lot of people, especially people with small children. With a couple kids, what should be a quick trip to the store can turn into an hour-long saga of car seat buckles, shopping carts, and tantrums over why you won't buy them something absurd like a big jug of Nair. Not having to find a parking space and get everyone out of the car could be a huge relief and save a lot of time, and time's one thing nobody ever seems to have enough of.
The pilot is being tested in Sacramento and Virginia Beach, and it will be rolled out to more cities throughout the rest of 2018.