Wirecutter Is Wrong: This Is the Best Drip Coffee Maker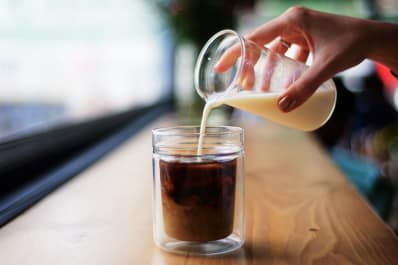 (Image credit: borabakan/Getty Images)
According to Wirecutter, a New York Times-owned website that performs and publishes extremely in-depth product reviews, the best coffee maker comes from OXO. The site crowned the OXO On Barista Brain 9 Cup Coffee Maker, saying, "This stylish brewer makes consistently good coffee, has a solid thermal carafe, and can be programmed to brew automatically before you wake up."
I love all things OXO (as do my fellow Kitchn editors!), and I actually got this coffee maker even before reading the Wirecutter review. I trusted the brand, was into the space age-y look, and had a broken cheap-o drip machine on my hands, so I decided to give it a try.
Sadly, I have to say: I do not agree with Wirecutter.
My Issues with the OXO Coffee Maker
Sure, I loved it at first. For starters, it's a good-looking machine, as Wirecutter points out. Every guest who stepped into my kitchen commented on it, curious about about how it worked. I loved the stainless steel carafe that poured easily and kept coffee hot for hours. It was a cinch to load and the controls — just a single dial — were extra easy to handle. The machine had a few quirks that I was at first willing to overlook (I was so in love!), but as I used it more and more the quirks became legit annoyances.
Find it: OXO On Barista Brain 9 Cup Coffee Maker, $199
There's no stopper on the brew basket, so every time we pulled the carafe out from its spot, the grounds reservoir would drip coffee, which splashed everywhere. I was constantly wiping up the area around the machine — even the walls! And it wasn't just that we were pulling the carafe out too early; the machine was definitely done brewing. No matter how long we waited, when we pulled the carafe out, the machine rained coffee.
My other major complaint: There was almost always a copious amount of coffee grounds in the carafe. This made for a bitter, sludgy last cup — and messy cleanup. I live in fear of clogging up my sink pipes with food (okay, maybe that's a little dramatic, but it is a concern I have) and hated dumping that last bit of sludge down the sink. Instead, I'd add a bit of water and pour it in my garden. That was all fine and good when it was nice out, but once the temps dipped below 50, it was less fine and good.
Wirecutter also warns that the lid on OXO's carafe "tends to trap old coffee; even a good rinse isn't enough to flush everything out." I agree with Wirecutter. I felt like I could never get the thing clean enough.
As difficult as it is to say this, I just did not love this OXO coffee maker. And it pains me because I love all other OXO products — especially the iconic POP Containers, the angled measuring cups, and the oh-so-smart sink strainer.
The Drip Coffee Maker I Got Instead
Frustrated, I looked at other reviews and found the Moccamaster on Cooks Illustrated. I read even more reviews and eventually got the Technivorm Moccamaster 79312 Coffee Maker. It was around $120 more expensive than the the OXO one, but I was fed up and willing to spend any mount of money to stop having coffee-stained walls. And it still looked and worked very much the same as the OXO machine.
The verdict? Drumroll, please. Are you ready? Is this anticipation killing you? Well ... I love it! The brew basket has a drip stopper that you can actually see, hear, and feel move into place when you pull out the carafe. At most, we'll get one small drip that falls onto the carafe's holder, but even that is rare.
It still comes with a stainless steel carafe that keeps the coffee hot, and there are two stoppers: one with a hole to use during brewing and one that works more like a plug to keep things extra hot (and it really does trap the heat for hours and hours).
I'm no coffee expert, but I don't taste a noticeable difference between the coffee brewed in this machine versus the OXO one. It takes a comparable amount of time (four to six minutes) to brew the coffee and it always comes out piping hot.
All the pieces are easy to clean and I get little to no grounds in the bottom of the carafe. My only complaint is that the machine can't be programmed to turn on ahead of time, but knowing that I have to brew a pot of coffee does actually help me get out of bed in the morning.
Do you have a favorite drip coffee maker? Have you tried either of these? Let us know in the comments below.
Kitchn supports our readers with carefully chosen product recommendations to improve life at home. You support us through our independently chosen links, many of which earn us a commission.