The 8 Best Finds Kitchn Staffers Recently Bought on Amazon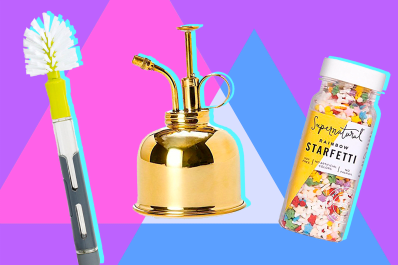 (Image credit: Amazon)
A few months ago, we polled Kitchn staffers to see what they had bought recently on Amazon and what they loved about their purchases. Since then, our editors have been very vocal about their subsequent purchases. And so we decided to make another list for you guys. Here's what else we've been shopping for lately.
"I'm really trying to be one of those people who keeps a ton of succulents and plants on the windowsil above my kitchen sink. It's hard because I'm very bad at keeping things alive. I bought this little mister and not only does it look cute on the sill, but it also seems to be the sprayer my plants have been thirsty for!" — Lisa Freedman, Lifestyle Editor
"I'm sort of sprinkles-obsessed and recently splurged on these Supernatural Rainbow Starfetti Sprinkles. They are so cute and have a sweet crunch that other sprinkles lack." — Meghan Splawn, Associate Food Editor
"I recently bought these plastic wine glasses when I had friends visiting and I knew we'd be hanging outside and grilling all weekend. I sort of hate drinking wine out of plastic, but these are so lightweight that it doesn't bother me. They're intended to be single use, but I've found that if you hand-wash them, you can get many more uses out of them. Oh, and they lock and stack together! So you can look like you're doing a fun magic trick while carrying them." — Sheela Fiorenzo, Assistant Food Editor
"I recently bought this knife block and I am obsessed. I buy knives individually, not in sets, so a traditional knife block never has quite the compartments I need. This also holds my kitchen scissors, too!" — Grace Elkus, Senior Food Editor
"I initially bought this for cleaning my spiralizer blades. It always felt so tricky cleaning them with a sponge, and the blades have a knack for tearing up sponges. This is perfect. I now also use it for cleaning pots and pans, and getting tough stuck-on food off of plates, bowls, and silverware." — Kelli Foster, Associate Food Editor
"After hearing about Bar Keepers Friend from many Kitchn editors, I finally caved and bought a can to clean my grimy oven door and hood. It worked! It's dreamy! It didn't take too long to get the job done!" — Ariel Knutson, News & Culture Editor
"I recently bought this bottle brush to clean my beloved travel coffee mug and the cups my preschoolers use. The brush keeps its shape and I love that it stores soap in the handle." — Patty Catalano, Contributor
"These pods are essentially coffee tea bags. I just throw one in a Mason jar filled with water, let it "steep" overnight, and then wake up to homemade cold brew! At $1.50 per pod, it's a lot cheaper than a Starbucks habit." — Lauren Masur, Staff Writer
What about you? What have you bought on Amazon recently? Tell us in the comments below!
Kitchn supports our readers with carefully chosen product recommendations to improve life at home. You support us through our independently chosen links, many of which earn us a commission.