Alysha & Matt's Renewed Seattle Kitchen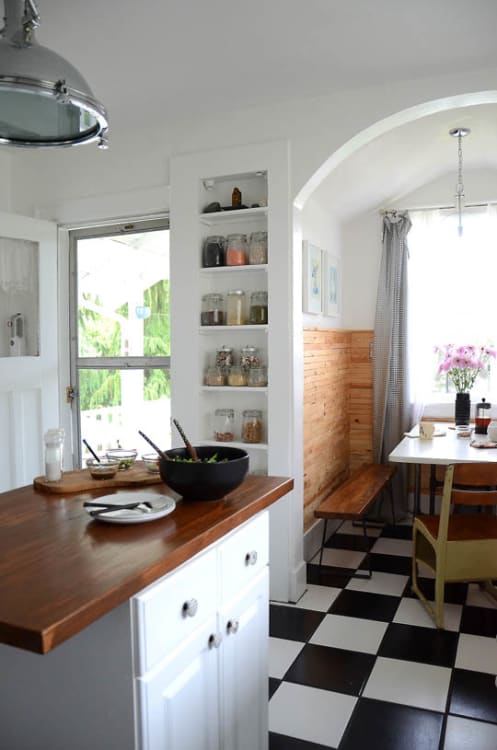 My husband and I bought our first home in West Seattle about a year ago. It's a sweet Craftsman from 1919 with great energy. Being almost a century old it no doubt needed some love, and the outdated kitchen was very high up on the to-do list.
We bought this home with the intention of massive DIY projects to get her into tip top shape to last another century. The kitchen was the first big undertaking we went for. I was looking to create a cozy, modern, farmhouse type kitchen. We began with tearing down old cabinetry and building an open-shelving system. From there we tiled the walls, built the island, planked the breakfast nook, built the table and bench, and installed new lighting. It was no easy feat but well worth the effort. It has gone from a cumbersome room we tried to avoid to one of our favorite places in the house.
10 Questions for Alysha and Matt (and Their Kitchen)
1. What inspires your kitchen and your cooking?
Simple, fresh, and fun new recipes to experiment with. We try not to repeat recipes as much as possible to keep meals exciting and different.
2. What is your favorite kitchen tool or element?
Our cabinet pulls. They really helped turn old, cheap cabinets into something fun that can stick around a while longer.
3. What's the most memorable meal you've ever cooked in this kitchen?
My mother's traditional greek Christmas Eve feast. She used to make a vegetarian and meat version of Pasticcio and Moussaka every year and now that she is no longer with us I have taken over that tradition.
4. The biggest challenge in your kitchen:
Not having pull out cabinets. They are very deep and it's hard for stuff not to get lost and messy in the abyss.
5. Is there anything you wish you had done differently?
Not as of yet, but time will tell.
6. Biggest indulgence or splurge in the kitchen:
The pendant lights.
7. Is there anything you hope to add or improve in your kitchen?
Eventually we will redo the cabinets and get new appliances.
8. How would you describe your cooking style?
Healthy, fresh, and vegetarian.
9. Best cooking advice or tip you ever received:
Don't be afraid to experiment. You can always learn from happy accidents.
10. What are you cooking this week?
Potato Feta Gyros, a Grilled Halloumi and Quinoa Salad, and Fresh Thai Spring Rolls.
Resources of Note:
Thank you so much for letting us peek into your kitchen!
Share your own kitchen renovation or improvement!
We're always looking for real kitchens from real cooks.
Show us your kitchen here!
(Images: Alysha Findley)