Here's How to Do Thanksgiving Like Alton Brown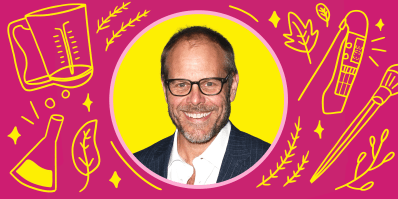 (Image credit: Design: Kitchn; Headshot: Jason Merritt/Getty Images)
Cooking Thanksgiving dinner can sometimes feel like a giant science experiment. There are so many elements and factors at play, all with the hope of a spectacular end result.
That's why it's smart to turn to a guy like Alton Brown, who takes a scientific approach to every part of the meal. He deconstructs classic Thanksgiving dishes in order to make them a bit more foolproof for all of us. Here are some of his best Thanksgiving tips for everything from turkey to leftovers.
1. Opt for seriously high heat if you want extra-crispy turkey skin.
Alton's turkey recipe is famous because of his wet brine technique, but it's the screaming-hot oven temperature that really sets it apart. The turkey is roasted at 500°F for the first 30 minutes before the heat is reduced to 350°F. That high temperature immediately browns and crisps up the skin, which results in turkey skin that's almost potato chip-like.
2. Use a cocktail shaker for better salad dressing.
The most annoying part of making homemade salad dressing is getting it to not only emulsify, but also stay emulsified. Alton suggests using a cocktail shaker to do the job, as it allows you to shake the oil and vinegar vigorously enough to create a strong emulsion.
3. When making mashed potatoes, use one pot for everything.
This is sort of a Why didn't I think of that? moment: After draining the boiling potatoes, use the same pot to warm up the dairy. This means one fewer pot to wash, and it gives the potatoes a few minutes to cool so you're not burning your fingers when you handle them.
4. Boil your pumpkin purée.
If you want an even better-tasting pumpkin pie, boil the purée in a saucepan on the stove first for a few minutes to evaporate some of its liquid and concentrate its flavor. This can be doth with either a canned or homemade purée.
5. Spritz the flour and butter when making pie crust.
One of the trickiest parts about making pie crust is moistening that flour and butter just enough that it comes together but not so much so that it's wet and overworked. Alton suggests uses a spray bottle filled with ice water to have more control.
6. Use cooking vessels that double as serving pieces.
In a roundup of tips on ABC News, Alton suggests cooking with pots, pans, and dishes that look nice enough to double as serving pieces to save you the hassle of more things to wash. He particularly likes cast iron skillets because they not only look great, but they also retain heat so well that they'll help keep the food warm.
7. Pick up Chinese takeout containers for sending home leftovers.
In the same article, Alton says to pick up Chinese takeout containers from party or restaurant supply stores before Thanksgiving. They make for an easy and fun way to pack up leftovers to send home with friends and family.