I Tried Alton Brown's Famous Thanksgiving Turkey and Brine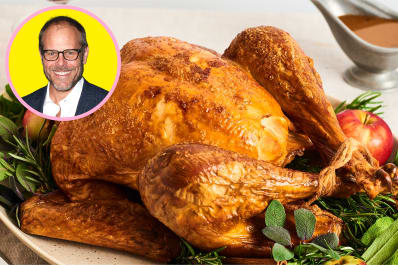 (Image credit: Photo: Joe Lingeman; Design: Kitchn; Headshot: Jason Merritt/Getty Images)
Of all the dishes on a traditional Thanksgiving table, the turkey is arguably the easiest to mess up, especially if you're newer to the kitchen. That's where someone like Alton Brown comes in handy, because he'll break down and explain every single element of a recipe, thus (ideally!) ensuring that your end result matches his. The perfect recipe to put that to the test? His Thanksgiving turkey.
Touted by the Food Network as Alton Brown's most popular recipe — and boasting more than 5,000 reviews — this brined and roasted bird originated on Good Eats, meaning no instructional detail is left behind. There's even a clip from the series where Alton teaches you exactly how to make it. But does Alton's scientific method result in a tasty bird? I headed to the kitchen to find out.
Recipe: Alton Brown's Good Eats Roast Turkey
How to Make Alton Brown's Roast Turkey
Many of us first heard about the technique of wet brining a turkey from the original episode of Good Eats. Alton's brine is elaborate, similar to a marinade that functions as a brine. The liquid is a combination of vegetable stock and heavily iced water that quickly cools the brine and makes it safe to use. It's seasoned with kosher salt and brown sugar, and flavored with peppercorns, allspice berries, and candied ginger. (Which, by the way, I could not taste at all in the finished turkey.)
After a relatively brief soak in the brine — as little as eight hours — you'll tuck a bunch of aromatics into the bird, including traditional ones (onion, herbs) and slightly more untraditional ones (apple, cinnamon stick.) Just like any wet brine, the method requires a large vessel and a good amount of fridge space. Alton also offers an alternative technique for chilling the bird and brine in a cooler that's monitored for temperature, but I found that it was quicker and more practical to put the turkey in the fridge and stash the displaced groceries in the cooler.
After brining, Alton tells you to blot the turkey dry — and put it immediately into a screaming-hot 500°F degree oven. (Worth noting: Not all ovens even go that high.) The oven temp drops to 350°F after 30 minutes, where it remains until the bird is done, as determined by a probe thermometer sunk into the breast. There's no mention of thigh temperature, but there is information to help us make an educated guess on the total roasting time, which I appreciated. (The other famous recipes I tested — here's Ree Drummond's, Ina's Garten's, and Martha Stewart's — didn't offer this useful detail.)
(Image credit: Photos: Joe Lingeman; Design: Kitchn; Headshot: Jason Merritt/Getty Images)
What I Thought of the Results
Alton's recipe gave way to a bird that was deeply browned and beautiful with skin as crisp as a thick-cut potato chip, and just as perfectly salty. If delicious skin were the only criteria for the turkey, this would have been my first choice. The meat, however, was almost too salty — but it wasn't a deal-breaker.
What was a deal-breaker, though? The pan drippings. Specifically, the fact that there weren't any. Because there was no liquid in the bottom of the pan to catch and protect the drippings during the 500-degree initial blast, they incinerated on impact, sending up enough smoke and sizzle that I had to turn on my stove vent to manage what was coming out of the oven. (This is addressed at length in Alton's reader comments, but I stuck with the recipe as originally written — for the sake of a true comparison.) I'd even used a heavy restaurant-quality half sheet pan, and it wound up so burned, stained, and warped that I had to throw it away after this.
If You Make Alton Brown's Roast Turkey …
1. Brine for longer than eight hours. Brining almost always improves a turkey, but eight hours might not be long enough.
2. Don't plan on having drippings for gravy. An initial blast of high heat does wonders to crisp turkey skin, but it sabotages (if not obliterates) the pan drippings if there's no liquid in the pan to absorb and protect them.
3. Put the turkey in the fridge, not a cooler. Rigging a cooler and thermometer system to ensure the turkey and brine stay safely chilled preserves precious refrigerator space, but it's complicated and requires frequent monitoring. It might be easier and more straightforward to use that cooler to store items removed from your refrigerator to make space for the big vessel to hold the turkey and brine.
Overall Rating: 6/10
The recipe delivered deeply browned and perfectly crispy skin. But the upfront fridge hassle of the wet brine, the complete lack of pan drippings, and the seriously scorched pan that I had to throw away at the end of this mean I probably won't attempt to make Alton's turkey again.
Have you tried Alton Brown's roast turkey? What did you think of it? Or is there another turkey recipe you swear by every year? Tell us everything in the comments below!