Alton Brown's Unusual Trick for Making Better Fruit Pie
We
independently
select these products—if you buy from one of our links, we may earn a commission. All prices were accurate at the time of publishing.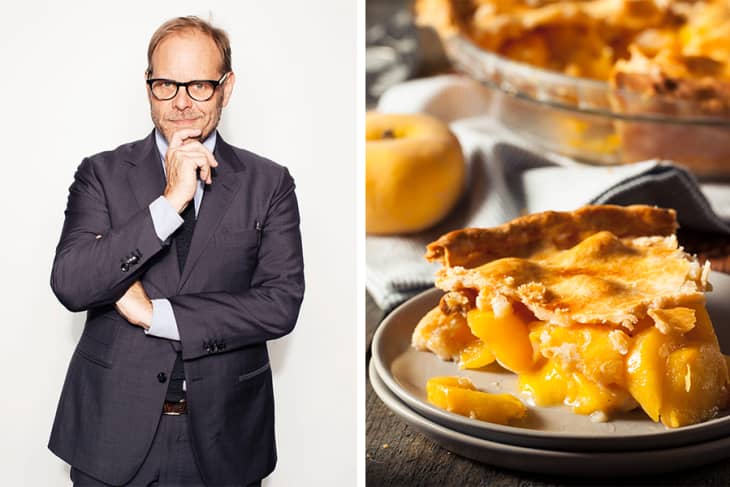 In much of the country, August is high fruit season: Everyone is scrambling to figure out how to preserve the incredible sweetness of the month's harvest in the best way to enjoy all year long. Particularly for those of us whose trees are ripe with peaches, pie is high on that list. 
Obviously, as a peach state resident, Alton Brown knows this and put together a peach pie recipe for his website — one made for freezing until it's needed. And as always Alton has a trick up his sleeve, with one rather out-of-place-seeming ingredient.
But before we even get to that, I need to note his intriguing method. Pie filling freezes well, but freezing the filling in the pie can be awkward and detrimental. So Alton has you just make the filling and freeze it right into the pie pan (lined with aluminum foil) so that you can pop it out and freeze it in a plastic bag. Then come time to bake, you simply make the pie crust, slip in the pie-shaped frozen block of filling, and you're ready to go. So smart!
Already that seems like a great idea, so we're inclined to trust him on this next part (although with some hesitancy). The secret ingredient in Alton Brown's peach pie (and he says any fruit pie, really) is smoked paprika. Wait, what? "You might wonder about the inclusion of smoked paprika," he notes. Um, yes. "Trust me on this. Adding spices to fruity desserts adds considerable dimension to flavors that all too often just taste plain sweet."
It makes sense. It only calls for a half-teaspoon for the entire pie, barely enough to add heat or smoke in any discernable measure, but enough to give it that extra oomph — the kind you can't quite define what it is until someone tells you. And then you're like, "Ah, yes, Alton's at it again."
Have you ever tried adding smoked paprika to your fruit pies? Let us know!