​Almond Milk Recalled for Containing Actual Milk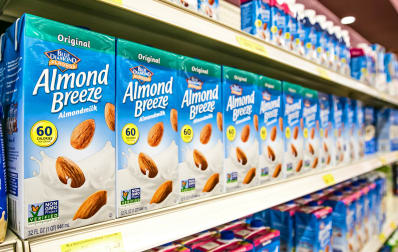 (Image credit: Roman Tiraspolsky/Shutterstock)
Almond milk has one job: Don't be cow milk. Plant-based milk substitutes are a huge business, with grocery stores carrying versions made from almonds, cashews, rice, coconut, peas, and more, and the one thing they all have in common is that they don't come from cows. It's the main defining characteristic of non-dairy milk. But this week nearly 150,000 half-gallons of Blue Diamond Vanilla Almond Breeze have been recalled in 28 states because somehow cow's milk got into the almond milk.
The recall applies to half-gallon cartons of Blue Diamond Vanilla Almond Breeze almond milk with a use-by date of September 2, 2018. According to the FDA, the milk is safe to drink unless a person has an allergy or sensitivity to milk, but one person has reported an allergic reaction to the milk so far. Fortunately, that reaction reportedly did not require medical treatment or hospitalization.
It's not entirely clear how the cow's milk got into the almond milk, but a representative from the company told CBS that the almond milk is processed in a facility that also produces dairy milk. There are allergen controls in place to make sure one can't contaminate the other, but apparently a container of dairy milk got into the almond milk "through an employee error."
The representative said safeguards have been put in place so something like this can't happen again, but in the meantime Blue Diamond Vanilla Almond Breeze cartons that are part of the recall were shipped to the following states:
Alabama
Arkansas
Connecticut
Florida
Georgia
Iowa
Illinois
Indiana
Kentucky
Louisiana
Maryland
Maine
Michigan
Minnesota
Missouri
Mississippi
North Carolina
Nebraska
New Jersey
New York
Ohio
Oklahoma
Pennsylvania
South Carolina
Tennessee
Texas
Virginia
Wisconsin
If you have a recalled carton of the milk, you can return it to the store where you bought it for a refund, or contact Blue Diamond at bluediamond.com or by phone at 1-800-400-1522.