All About: Soapstone Countertops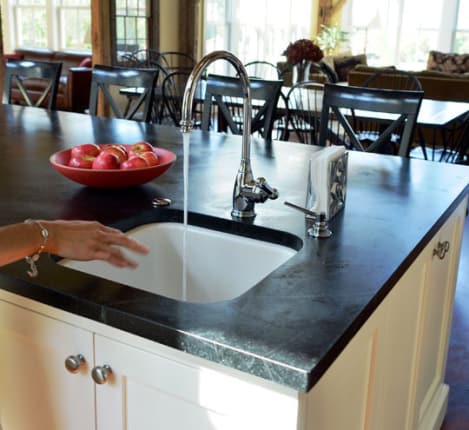 Are you thinking about renovating your kitchen? Doing research on countertop materials? If so, then our Countertop Spotlight series will help you. Today we look at the pros and cons of soapstone countertops:
Material: Soapstone
Origin: Soapstone is a natural stone, like granite, that is quarried. It's composed mostly of mineral talc, which makes it quite soft, but soapstone used for countertops typically has higher percentages of quartz in it, which makes it harder and more suitable as a kitchen surface.
Pros: Beautiful natural grey color, smooth matte feel, resistant to etching from acids, scratches can be sanded or oiled away; great surface for making pastries.
Cons: Requires maintenance; not as heat resistant as granite; not impervious to dents and scratches; regular oiling and buffing recommended; the color darkens with age (which may be a pro for some).
Installation: DIY-friendly
Price range: $75-150/foot
Kitchn Reader Reviews:
We have soapstone countertops and a sink in our kitchen and it's a *great* surface to work with. Functional, almost impervious to scratches and burns, and looks great -- especially when oiled with mineral oil, as they suggest you do every few months. Our supplier was Vermont Soapstone, who were very easy to work with. The pieces come by truck, crated. Our contractors had no problem with the actual installation since the pieces were already cut to size and edged/finished, but watch out - soapstone is very heavy. Plan ahead and have enough people there to lift and shift things into place. - Kthomson
Soapstone is soft, and does not require any special equipment or tools, like other stone counters do, so it was a breeze to install. Soapstone makes beautiful tight joints like Corian, actually. So if you are used to house renovation work, do it yourself. If not, any good careful experienced professional can do it -- they do not need to have experience working with soapstone. Oh, and Vermont Soapstone are THE BEST to deal with! One of our very favourite suppliers! - MsChaitelaine
The soapstone counters, which are so fantastically durable to use but soft to touch. Soapstone isn't common here, so I had to make an effort to get it and it really was against my practical nature to make a splurge like that. But in the end I just went for it and every day I just love the feel of it. I want to sleep on the island. - Lillian from this Kitchen Tour
Related Posts:
• Soapstone Countertops and Suppliers? | Apartment Therapy
Other 'Countertop Spotlight' Posts
• All About: Stainless Steel Countertops
• All About: Butcher Block Countertops
• All About: Quartz Countertops
• All About: Granite Countertops
• All About: Synthetic Solid Surface Countertops
• All About: Lava Stone Countertops
• All About: Paper Composite Countertops
• All About: Concrete Countertops
Other Recommended Reading
• How To Install a Soapstone Countertop | This Old House
(Images: 1. Faith Durand; 2. Apartment Therapy; 3. Wes and Kayla Schwartz; 4. Leela Cyd Ross)