Shrimp and Grits is Alexander Smalls' Recipe for a Joy-Filled Sunday
Lumb crabmeat joins shrimp and a luscious gravy in this comforting dinner.
Serves5 to 6
We
independently
select these products—if you buy from one of our links, we may earn a commission. All prices were accurate at the time of publishing.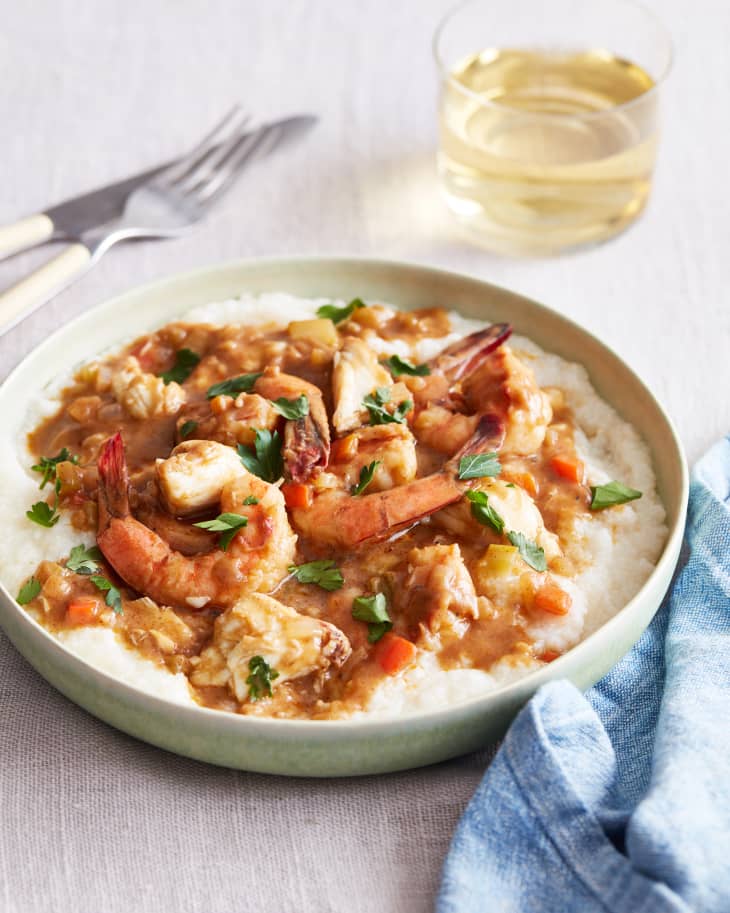 Alexander Smalls is a force. He's not only an award-winning cookbook author and restauranteur, but he's also a world-renowned opera singer who has won a Grammy and a Tony. And he has one of the best and most infectious laughs you'll ever hear. Recently I hopped on the phone with him to talk about all things Sunday cooking, a topic he is very passionate about. After reading our interview, I suspect you'll be inspired to get in the kitchen, too.
Let's just jump in here. What does Sunday cooking mean to you?
Well, first and foremost, my favorite day of the week is Sunday. Sunday is my sunshine day. Ever since I was a kid, I looked forward to Sunday. Sunday was the destination. No meal competed with Sunday. Sunday was a feast. I grew up in a Black Southern household where food was already the centerpiece of our lives: food and music. Sunday, we pulled out all the stops. Mother would often use her wedding china. And it was a ritual, big and celebratory. And it was the meal that we started planning and cooking for on Friday.
What was your role in Sunday cooking and Sunday dinner as a kid?
I was my mother's little helper, without question. I was always there and it was also the way I ensured that many of my favorites would be included. And as a child, I learned that the person who cooked had the power and that's what I wanted. I wanted to rule the roost.
Speaking of cooking and power, did your mother do most of the cooking?
My mother cooked everything. My father's family was from Charleston, Beaufort, the Gullah islands. It was Low Country cooking. My mother was not. And she really had to learn how to cook the food that my father's family was comfortable with. I grew up in Up Country, so we were a Low Country family living in Up Country. All my friends ate different food than we did. Their food was more Piedmont and sort of the foothills of Appalachia. What a lot of people don't understand about Southern food is that they think we all eat the same thing. And if you're Black, it's soul food. If you're White, it gets to be called Southern food, but it's an interesting conversation, also, about the difference between Southern food and soul food and the difference between food in say the Low Country versus in Mississippi or Virginia.
That's so interesting. So how would you describe your mother's cooking?
My mother was what I call a salt and pepper cook. What she could do with salt and pepper was extraordinary. I mean, her food was incredibly good, but she was not a woman of lots of spices and certainly not aromatics or peppers and things like that. My father came from that type of family; everything was spicy and very much connected to West African flavors and Caribbean culture. And so it was always interesting because my father's family would refer to my mother's cooking sometimes as like, "Well, you know. It's kind of like white folk cooking."

And what did she think about that?
She didn't care. She couldn't care less, quite frankly. She'd just grab her pearls and go on about her business.

Hahaha. Okay, so how would Sundays unfold for you when you were growing up?
I know I talked a lot about my mother's cooking, but if my father was in a generous mood, he would sometimes prepare his shrimp and crabmeat gravy for Sunday breakfast. That dish was usually reserved for holidays and special occasions, like Christmas morning or Easter or Thanksgiving. But there were also some Sundays that qualified for this dish. And there was nothing like my father cooking off the bacon or pork fat for this dish. You'd wake up to the smell of onions and celery and the fat, the salted fat back rendering. And I loved it because he would save the rinds for us, my sisters and me, that we could chew on with our grits and crabmeat gravy.


That sounds pretty incredible. What happened after breakfast?
We would always go to church on Sundays. My dad was Baptist and my mom was Episcopalian, but she gave in, so my family was Baptist. Sunday School was pre-church, so we had to be there like from 10 to 11. And then church service would start at 11 and it was all of that. My father sang in the choir; he had a gorgeous voice. I love church music. I love the expression of church being a part of Sunday because for me Sunday was its own special day. Church just happened to fall on Sunday, so it helped to kind of excite the whole ritual moment. You had to dress to the nines. We had our Sunday clothes and I remember there was always an inspection by my parents before we left the house to make sure we were representing the family. They would check behind our ears and make sure our collars were pressed and all that. And we were really well put together because as Mother said, "You don't just represent yourself. You represent the Smalls family." My mother and father were incredible dressers. Mother was a dressmaker and my father had been trained as an upholsterer and a shoemaker. He had worked for a very chic men's store in town and did some tailoring. So they both dressed to perfection, and being their offspring, we also had to dress extremely well.

I love the visual of the behind-the-ear check. So what happened after church?
The first thing that happened when we came home was out of the Sunday clothes, and set the dinner table. Because you're in the South and proper Southern families had dinner midday on Sunday. And then Mother and I would finish up the meal and we would set the table. The most comfortable, exciting moments were during the spring and summer time. We had a long summer season in South Carolina, so we would set up the table on the screened-in side porch and eat out there. Just wonderful. There was tons of iced tea with fresh mint that grew wild by the side of the house. And powder biscuits and sometimes there would be homemade ice cream. We'd stop at the icehouse and get the cracked ice and churn that thing. Oh my gosh. It was just wonderful.
Wow. That sounds pretty perfect. So when did you start your own Sunday cooking traditions?
I basically took that tradition with me when I moved away from home. It's funny because when I first went away to college (it wasn't too far from home), my mother and my father would literally bring Sunday dinner to the dormitory and drop it off.

That's amazing!
I know. I know. And so that happened like the first two years, but then I moved to North Carolina, to the School of the Arts. But by that time I was having my own Sunday rituals myself. I would make dinner and friends would come over because I always cooked. When I got to the Curtis Institute of Music in Philadelphia, I was doing Sunday soirées where I shop and cook Saturdays and Sundays. And a whole bunch of musician friends would come over on Sunday. I would lay out food and we would sing and carry on. And I did that, and I remember my teacher, my opera coach in grad school saying to me, "Boy, you're never gonna have a career if you don't put down that spoon and cooking all that food. You need to be studying." And I was a horrible student but I couldn't embarrass my mother, so I would learn my music, but I wouldn't learn it until I had to. But, basically, Sunday dinner was one of the family trusts that I took with me when I left home. There always had to be Sunday rituals. And I own that. I claim it for myself.
I love the idea of Sunday dinner as a family heirloom.
Yes, and I've kept the Sunday dinner occasion going, at least before COVID. Especially now as I'm older and my parents are no longer with us, these dishes are heirloom pieces. They are treasures. They allow us to re-engage and visit and reenergize wonderful memories of home and childhood and ritual traditions that I feel, especially living in New York, living a high-profile life and sort of being overly exposed to too much of everything, being able to have these touch points, these food memories that you can cook up in a pot and revisit those expressions and those experiences and those feelings and emotions, I love it. I often say, particularly with the African American community, food is currency. It is truly. And of course for African Americans because there were times in our history that we owned nothing, including ourselves, but we owned that dish. We owned that food. We owned that song. Those were things that were intricately ours and it couldn't be negotiated. It was our hallmark, it was our identifier, and it had value.
Thank you, Alexander! For more recipes like the shrimp with crabmeat gravy (below), be sure to pick up a copy of Alexander's most recent cookbook, Meals, Music, and Muses.
Smothered Shrimp and Crabmeat Pan Gravy with Stone-Ground Grits
Lumb crabmeat joins shrimp and a luscious gravy in this comforting dinner.
Nutritional Info
Ingredients
Shrimp:
1 1/2

tablespoons

unsalted butter

2

garlic cloves, finely chopped

1/2

large onion, chopped

1

celery stalk, finely chopped

1/2

red bell pepper, finely chopped

2

tablespoons

vegetable or olive oil

1/4

cup

all-purpose flour

1

tablespoon

rubbed dried sage

1 1/2

teaspoons

finely chopped fresh thyme

1/4

cup

dry sherry

2

tablespoons

Worcestershire sauce

1/8

teaspoon

ground nutmeg

1/4

teaspoon

cayenne pepper

1 1/2

cups

clam juice, fish stock, or chicken stock

1 1/2

teaspoons

tomato paste

Salt and pepper

1 1/2

pounds

peeled and deveined jumbo shrimp, butterflied with tails intact

12

ounces

jumbo lump crabmeat, picked over for shells
Stone-Ground Grits:
4

cups

unsalted vegetable or chicken stock, plus more as needed

2

tablespoons

unsalted butter, plus more for serving, if desired

1

tablespoon

olive oil

1

teaspoon

salt

1/2

teaspoon

pepper

1 3/4

cups

stone-ground white grits
Instructions
Shrimp:
In a large, heavy-bottomed stockpot, melt the butter over medium heat. Add the garlic, onion, celery, and bell pepper. Cook, stirring often, until the onion is translucent, about 10 minutes.

In a separate frying pan, heat the oil over medium heat. Add the flour and stir briskly. Cook, stirring continuously, until the roux begins to brown, being careful not to burn it, 15 to 20 minutes.

Transfer the roux to the pot with the vegetables. Stir in the sage, thyme, sherry, Worcestershire, nutmeg, cayenne, and clam juice. Increase the heat to medium-high and cook, stirring continuously, until the mixture begins to simmer lightly and everything gets agitated. Stir in the tomato paste and season with salt and black pepper. Reduce the heat to medium and cook, stirring often, until creamy and thick, about 15 minutes.

Add the shrimp and cook until just cooked through, 3 to 4 minutes. Reduce the heat to medium-low. Fold in the crabmeat and simmer until heated through, about 2 minutes. Taste and season with salt and pepper.
Stone-Ground Grits:
In a heavy-bottomed saucepan, combine the stock, butter, oil, salt, and pepper and bring to a boil over high heat. Reduce the heat to medium. While whisking, pour in the grits. Bring to a steady boil and cook for 5 minutes.

Reduce the heat to low, give the grits a good stir, and cover. Simmer until tender, creamy, and thick, about 15 minutes. If the mixture becomes too stiff and dry before the grits are cooked through, add additional stock. When the grits are done, you can add more stock if you prefer a thinner consistency.

Serve immediately, topped with more butter, if desired.
Recipe Notes
From Meals, Music, and Muses: Recipes from my African American Kitchen by Alexander Smalls with Veronica Chambers. Copyright (c) 2020 by Alexander Smalls. Published by Flatiron Books. Reprinted with permission.