Why Is Everyone So Obsessed with Aldi's Stuffed Carrot Toy?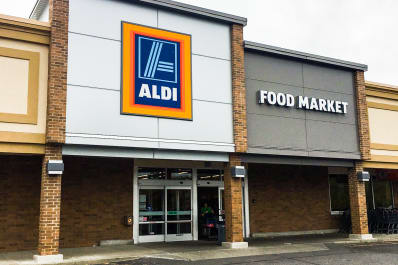 (Image credit: Lisa Freedman)
Aldi's award-winning wine selection has a well-deserved fan base but it's not the subject of a recent shopping frenzy at the grocery store chain's UK locations. The item that inspired such fanatic chaos? A giant stuffed carrot. Specifically, a giant stuffed carrot named Kevin.
Kevin the Carrot is Aldi's holiday mascot. On November 8, the company announced that the carrot would be returning to stores with a Christmas-themed fairy tale starring Kevin himself, in which he has to save his carrot family from the clutches of an evil parsnip.
Aldi fans went wild for the carrot's sweet story, and lined up in droves last week when Kevin (and smaller plush versions of his family: Chantenay, Jasper, Baby Carrot, and his wife Kate) arrived in stores. Aldi first introduced Kevin to shoppers three years ago, but this is the first time it's offered a giant stuffed version of Kevin.
As Fox News reports, shoppers were so eager to get their hands on Kevin ahead of Christmas that fights broke out in the aisles, and angry customers later tweeted that people were pushed and shoved. Some even sent tweets directed at the company, complaining that they witnessed other shoppers filling their carts with the carrot dolls, with plans to resell them online at a higher price. The Mirror reports that some Kevin the Carrot dolls are being sold for as much as £300. The original price is only £19.
Never seen anything like that before @AldiUK old people getting knocked off their feet and kids pushed out the way...grown men sprinting down aisles to try and be first for Kevin the carrot and his clan... need to train your staff to control situations like this in the future.

— Stuart Fergus (@stuartfergus) November 22, 2018
The doll also sold out online quickly, causing the store's website to crash. Aldi released a statement on Twitter, simply stating that the "buzz" around Kevin the Carrot had been "extremely high" this year, and reassuring customers that the website was back in working order. Though the toys are out of stock online, you don't need to shell out the big bucks if you still hope to get your hands on one. There are still some available in stores.