It's "American Week" at Aldi Germany, and Here's What They're Selling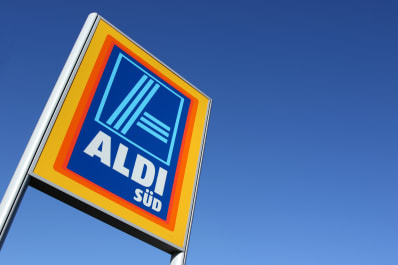 (Image credit: Bjoern Wylezich/Shutterstock)
Grocery-store theme weeks usually do nothing for me. When I'm looking for milk and avocados, I don't particularly care if the store management has gotten really excited about the World Cup or tailgating this week — but I just found an exception to this rule. Apparently it's "American Week" at Aldi in Germany, and the"American foods" they're selling are totally hilarious. It's basically Homer Simpson week at Aldi Germany.
Obviously there's a lot of beef on sale during American Week. This seems fair, because we do eat a lot of beef. There's also peanut butter cups, popcorn, chocolate muffins, jelly beans, a "cookie cream" jar made of stripes of Nutella and Oreo cookie filling, mini brownies, and basically a whole lot of candy covered in tiny American flags. I'm getting a food coma just looking at it.
Here's what else is on the menu.
A Jar Full of Hot Dogs
The most disturbing thing to me is this jar full of hot dogs in water. Why are the hot dogs in a jar? They look like a science specimen, and if you tried to take one out of the jar your fingers would smell like hot dogs for the rest of the day. Germany sells tons of sausage that does not come in jars, so I can't fathom how the hot dogs wound up floating in a pickle jar.
Two-in-One Sauce
Once you get your hot dog out of its jar, clearly there's no better topping than this "American" two-in-one sauce. It's a toothpaste tube full of ketchup and mayonnaise, and it comes out of the tube striped like AquaFresh.
American Sauce
Aldi also has American Sauce in either barbecue flavor or "sandwich sauce." I don't know what sandwich sauce is, and Aldi is not giving any details. They just say it's "ideal for burgers and sandwiches," and it looks like mayonnaise that's a little bit green. Maybe it's meant to go along with the curry-flavored American relish.
Donut Biscuits
The doughnuts are a lie. These "mini donut biscuits" are actually crunchy round cookies flavored with coffee or hazelnut and dipped in chocolate so they look like doughnuts. They sound pretty good, but if you were expecting a mini doughnut, biting into one would be a big surprise.
Mini Pies
These are great. They're described as shortcrust pastry cakes with apple or blueberry filling, and they look adorable and I support anything that leads to more tiny pies in the world.
Barbecue Marshmallows
For a moment I was afraid the barbecue marshmallows were marshmallows with BBQ sauce, but it looks like they're just regular marshmallows.
American Pancakes
You can also get six American Pancakes in a "freshness pack," but I wouldn't recommend it. I never managed to find a decent American-style pancake in Germany, and no good pancake ever came out of a blister pack. American-style breakfast pancakes can be tough to find abroad. Germany has "pfannkuchen," which means "pan cake," but those are more like crepes, and my German teacher insisted nobody in their right mind would ever eat one for breakfast.
American Fruit Syrup
In the U.S., the default pancake syrup is maple. There's no maple syrup at this American Week celebration, but you can get "American fruit syrup" in blackcurrant, cranberry, and blueberry. Now I'm questioning why I never thought to put cranberry syrup on pancakes before, because that sounds fantastic.
Check out all the "American Week" products at Aldi Germany here.