The 10-Minute, One-Pan Dinner Chef Adrienne Cheatham Cooks When She's Feeling Lazy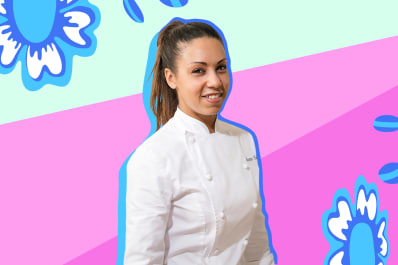 (Image credit: Photo: Melissa Hom; Desgin: Kath Nash)
We all know what it's like to come home hungry at the end of a long day and not want to spend a ton of time in the kitchen. Instead, we'll turn to our default dinners — the fast, familiar bites we can toss together with whatever's in our fridge or pantry (with bonus points if the end result is quick, cheap, and, of course, delicious).
And famous food figures — from chefs, to TV hosts, to cookbook authors — feel that way too. After often spending entire days cooking with or thinking about food, it's no surprise that when they get home, they also have their shortcut suppers to fall back on. All month long, we're asking them to share them with us.
Up next: Adrienne Cheatham. She's the 36-year-old Harlem-based Top Chef alum and SundayBest host who's honed her impressive culinary chops in kitchens like New York's Michelin-starred Le Bernardin and Marcus Samuelsson's Red Rooster.
We chatted with Adrienne about her standby lazy dinner: a super-quick fried rice that comes together in about 10 minutes. Her secret ingredient? Kimchi, the Korean staple of fermented veggies that adds a spicy tang. It's balanced out with salty bacon, creamy egg yolk, and crisp scallions — and comes together in a single pan.
Here's exactly how Adrienne makes it.
How Adrienne Cheatham Makes Her 10-Minute Fried Rice
"If my husband is out of town and I'm just cooking for myself, I always make a quick bowl of fried rice. I always seem to have a carton of takeout rice in the refrigerator, so I'll sauté a little diced bacon, add sliced scallions, some chopped kimchi, and top it with a fried egg (and of course some Sriracha or Tabasco). If I have other veggies I'll add those too, but bacon, scallions, kimchi, rice, and eggs are things I pretty much always have enough of to make an easy one-pan meal."
More Default Dinners