Absolutely Avocados by Gaby Dalkin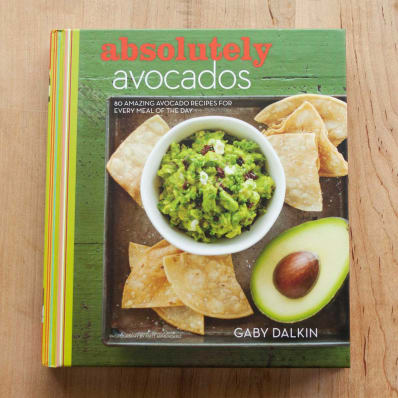 Who has two thumbs and loves avocaodos? This girl! And also, I'm guessing, a great many of you. But we've got nothing on Gaby Dalkin. Here is a gal who loves her avocados something fierce. We're talking breakfast, lunch, dinner, and a great many nibbles in between — her new cookbook has 80 different ways to work our favorite buttery green fruit into every meal of the day.
Quick Facts
• Who wrote it: Gaby Dalkin
• Who published it: Houghton Mifflin Harcourt
• Number of recipes: 80
• Recipes for right now: Um...all of them. No seriously! Although you can find avocados nearly year-round, the Hass avocado season in California is in full swing right now. With Cinco de Mayo this weekend and summer just around the corner, pretty much everything made with avocado sounds good. But a few recipes from this book to make first? Here you go:
Avocado & Chorizo Breakfast Hash, Charred Corn Guacamole, Mango & Cilantro Guacamole, Avocado Caesar Dressing, Hawaiian Pulled Pork & Avocado Sandwich, Cheese-Stuffed Pupusas with Tomatillo-Avocado Salsa, Cowboy Caviar Couscous Salad, Cheese-Bellied Guacamole Turkey Burger, Mediterranean Avocado Pizza
• Other highlights: Ok, it's not hard to get on board with a book that's all about avocados, but I am awed by the breadth and variety of recipes that Gaby has tucked into these pages. We all know guacamole and have no-doubt fallen in love with avocado on a cheeseburger at some point, but I like the riffs that Gaby offers. Things like adding charred corn or juicy mangos to batches of guacamole or swapping a sweet potato burger for the usual beef before topping it with avocado make these everyday favorites into something fun and new.
The recipes also challenge assumptions about which dishes and cuisines can handle a little avocado action. The foods and flavors of Mexico, South America, and California are well-represented here, to be sure, but I also love the idea of adding slices of avocado to a croque monsieur or whizzing them into a classic Caesar dressing. And hey, what about avocado-coconut ice cream or avocado on top of pizza? These ideas are new to me, but I'm game to try them out.
One of my favorite parts of the book is not actually the recipes at all — it's the several pages at the very beginning that give a brief overview of the traits and characteristics of the more common varieties of avocados on the market. I'm a geek for this kind of info and would have welcomed even more of it! (Side note: I'm pretty sure we have a Nabal avocado tree in the neighbor's hard — we've been calling it the Dinosaur Egg tree for years!)
Count me in for the avocado party. As we head into summer and warm months of outdoor gatherings, you can be sure I'll be keeping this book handy in my kitchen.
• Who would enjoy this book? People who love avocados and are always looking for new ways to eat them and cook with them.
Find the book at your local library, independent bookstore, or Amazon: Absolutely Avocados by Gaby Dalkin
Apartment Therapy Media makes every effort to test and review products fairly and transparently. The views expressed in this review are the personal views of the reviewer and this particular product review was not sponsored or paid for in any way by the manufacturer or an agent working on their behalf. However, the manufacturer did give us the product for testing and review purposes.
(Images: Emma Christensen)
Kitchn supports our readers with carefully chosen product recommendations to improve life at home. You support us through our independently chosen links, many of which earn us a commission.