The Fast, Foolproof Dinner Aaron Sanchez Makes When He's Feeling Lazy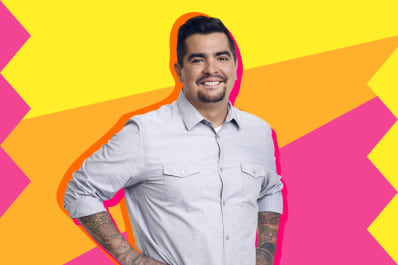 (Image credit: Photo: Fox; Design: Kitchn)
We all know what it's like to come home hungry at the end of a long day and not want to spend a ton of time in the kitchen. Instead, we'll turn to our default dinners — the fast, familiar bites we can toss together with whatever's in our fridge or pantry (with bonus points if the end result is quick, cheap, and, of course, delicious).
And famous food figures — from chefs, to TV hosts, to cookbook authors — feel that way too. After often spending entire days cooking with or thinking about food, it's no surprise that when they get home, they also have their shortcut suppers to fall back on. All month long, we're asking them to share them with us.
Up next? Aaron Sanchez. The Texas-born chef, restauranteur, and go-to Chopped judge knows a thing or two about packed schedules and long nights. So we chatted with him about his standby lazy dinner: a classic quesadilla that's amped up with a blend of Mexican-style cheeses, fresh herbs, and chorizo. In true default-dinner style, it's completely customizable, requires almost no prep, and basically makes itself.
Here's exactly how Aaron makes it.
How Aaron Sanchez Makes His Easy Chorizo Quesadilla
"I love to make a quesadilla when I've had a long day and don't feel like cooking a whole meal. They were one of the first things I learned how to make as a kid, so it's my go-to comfort food. Having quality ingredients is key, which is why I always have fresh tortillas, salsa or pizza sauce, fresh herbs, and Mexican-style cheeses — like Manchego, Oaxaca, and Asadero — on hand. If I have some in the fridge, I'll also toss in some chorizo."
More Default Dinners