A Visit with Suzanne Fuoco of Pink Slip Jams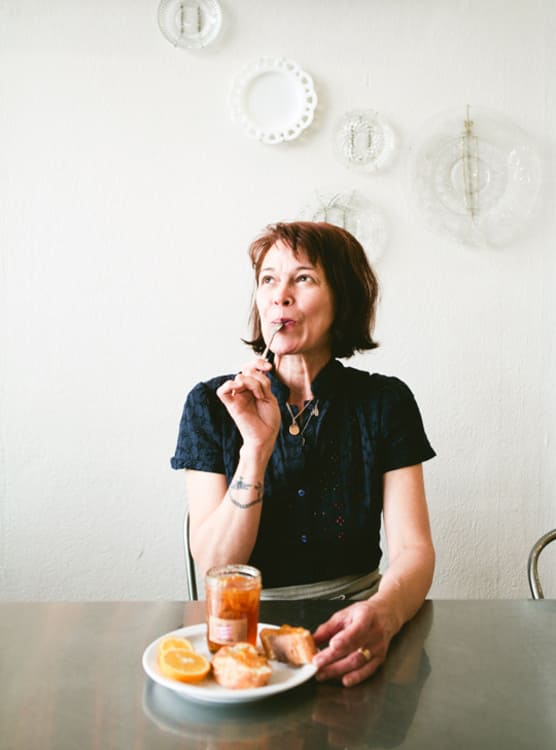 Who: Suzanne Fuoco
What: Pink Slip Jam
Where: Portland, Oregon
Suzanne Fuoco's background in fine art and cooking come together beautifully in her 3-year–old company, Pink Slip Jam. Her products taste like something from a fairy tale, as flowers, local produce, spirits, essential oils and spices collide into the most innovative jam flavors. Once you've gone Pink Slip Jam, your toast will never be the same. Here's a conversation with Suzanne and a peek into the kitchen where she concocts her jams.
Suzanne has ruined me for run–of–the–mill confitures ever more and let me say, that's a good problem to have. This jam maker is truly an artist when it comes to her wares, basing flavors on story, place and season. Have you ever heard of such compelling combinations of fruits? Meyer lemon and Tahitian vanilla marmalade, kumquat and peony, or strawberry, rhubarb and rose petal. These are just a few of Suzanne's other–worldly, floral and absolutely delicious jams.
Suzanne is from Northern California but moved with her family to Portland, Oregon about four years ago. She uses a friend's restaurant kitchen to make her jams, which she sells at a few restaurants and shops around town. Her jams are even featured in an upcoming ice cream flavor at a previously toured local company, Salt and Straw. That is a collaboration I'm greatly looking forward to.
The Test Kitchen
Pink Slip Jams is currently seeking a different commercial kitchen, as Suzanne is expanding her line of canned goods. For now though, she uses her friend's restaurant kitchen at Oui Press in South East Portland. Their kitchen is abuzz with activity as Suzanne prepares a batch of Meyer lemon/Tahitian vanilla marmalade. It's about 150 square feet and has a large stainless steel table, so useful for keeping everything clean and proper for the jam–making process. It's a beautiful space perfect for weekly jam sessions.
The Secret Sauce
Suzanne tinkers with recipes quite a bit to achieve the balance she's looking for. At the core of her jams is seasonal, local produce, but she does love to add edible essential oils to boost certain notes within her jam. These powerful oils from cardamom, rose, and lavender, for example, are wonderful components to Suzanne's jams. They act almost as barely–there aromas, similar to a tiny bit of a different grape in a full bodied, singular vineyard wine. These essences become the nose, tickling your sense of smell as well as taste.
The artistry of Pink Slip Jams is in the blending of unusual combinations of disparate elements and being inspired by all of life's events. From the sublime to the ridiculous. For example, one flavor of Suzanne's is loosely based on her teenage sons' rescue of a baby crow and nursing the bird back to health. Another series of jams was based on Mad Men characters, and each of the jams had a touch of alcohol in the mixture. Amazing, right?
The Business Plan
Pink Slip Jam is expanding and in process of finding a larger commercial kitchen to operate in. Suzanne is also starting to make sweetened fruit and flower–based syrups as well as savory chutneys. What started as a neighborhood endeavor, selling a few jars to parents at her sons' school, became a full&fledged job pretty quickly. Due to demand, from parents then friends of friends, then local shopkeepers, Pink Slip Jam grew slowly and steadily.
At this point, Suzanne is still the sole jam-maker, handling everything from orders to making the jam to blogging about her inspirational concoctions and recipes she's tried featuring her jams, chutneys and syrups.
The Community
Suzanne's jams are rooted in her community in that she uses almost exclusively local produce; she's very connected to the farmers she purchases from. She's also very collaborative in that she sells jams around Portland to shops and restaurants who love her product. In several of these establishments, she's created a specialized flavor to use in one of their dishes. The relationships Suzanne has built with local food makers is symbiotic.
She lights up when speaking about her jam being featured in a seasonal flavor of brie cheese ice cream at Salt and Straw, in which a big blob of her fruit jam will be dolloped on the top of the cone.
For me, Suzanne's jams are apart of a very intimate time of day; my breakfast. Slathered on baguette with salted butter and a pot of black tea, my own little family rises to the crunch and smack of warm bread and melty, sweet, dazzling jam. This small community: myself and my husband, is very grateful.

5 Quick Questions for Suzanne Fuoco
Favorite online resources for your kitchen?
Mountain Rose Herbs for incredible spices and flower petals. Aftelier Parfum for some of Chef Mandy's essences (I love cardamom and geranium oils).
The one thing you can't live without?
From a purely practical point of view (no pun intended), I'd have to say my contacts or my glasses! I'm terribly nearsighted, as well as being a very visual person. I take inspiration from art, nature, nature and books, and people all around me, so I need to see!
If you could spend a day with anyone, who would it be and why?
This is a tough call, but ultimately I'd have to say Julia Child. She was so engaged in all manner of cooking, loved talking and people, sharing ideas and recipes, never afraid to admit mistakes AND in addition, was my middle son's pen pal for 3 years before she died! I treasure the notes she wrote to him.
What's in your Google Reader?
• Glass Petal Smoke
• The Dinner Files
• Design Sponge
• Remodelista
• Punk Domestics
• Anarchy in a Jar
If you won a million dollars, what would you do with it?
First thing would be to pay off the house in Portland, pay off an ancient student loan (ugh), and, if any funds are remaining I'd return to Italy, and spend time taking some cooking seminars. I'd take my whole family.
What's your favorite vehicle for eating jam?
My favorite way to use almost any flavor of jam is to make a crostata, or an Italian jam tart. The crust is buttery and rich with hints of cinnamon and whenever I've made this, there are no leftovers! It's great for breakfast with tea, or as a dessert. I've taken variations with different designs in the dough for all sorts of holiday parties. While the intense red or pink jams look the most dramatic, my personal favorite flavor to use is Heart of Darkness (black mission fig, cocoa nib and cinnamon). Absolutely decadent! And easy!
Thanks, Suzanne and Pink Slip Jam!
Related: A Visit to Salt and Straw: Artisan Ice Cream in Portland, Oregon
(Images: Leela Cyd Ross)