A Visit with Amy Pennington: Gardener & Preserver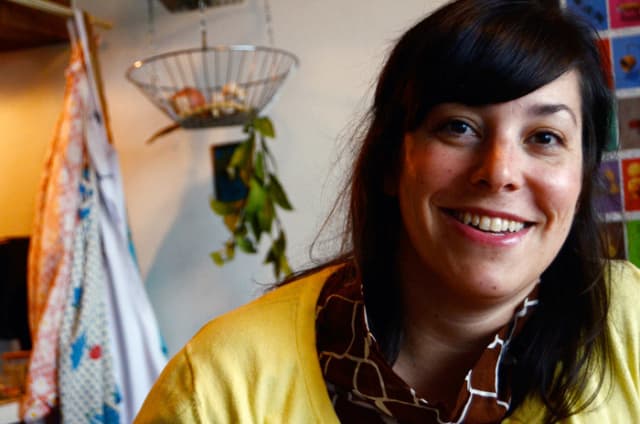 When Amy Pennington, author of Urban Pantry and Apartment Gardening, invited me to visit her Seattle kitchen, one word kept coming up over and over. "It's dismal, Faith," she said. "My kitchen is in utter disarray." There was a ceiling leak, she explained, and her kitchen is located in a tiny rental apartment — no painting or renovation allowed. Sound familiar? This is very close to reality for many of us, I think!
And yet Amy's kitchen turned out to be a place of warm inspiration that depends in no way on granite countertops or IKEA cabinets — instead, it is full to the brim with preserves of summer fruit, dried herbs of every shape and size, and other smartly stashed-away food. She does all of this in the teeniest and most basic apartment kitchen you can imagine. Come see, and be inspired by her top tips for how and why to preserve fruit — even if you live in a tiny space.
Amy has lived in this little apartment, with this kitchen, for 10 years. She says that she moved in after she lost everything in a house fire, and this apartment with a gorgeous water view (which I sadly neglected to document) was a salvation for her.
Amy now wears many hats, but they all relate to gardening, preserving, and nourishing oneself through the kitchen. She owns a business in Seattle called Go Go Green Garden, where she helps people start and maintain gardens. She also does this for several local restaurants.
• Amy's Seattle gardening business: Go Go Green Garden
Amy is also deep into preserving, teaching canning classes and preserving the bounty of her own garden. She has a tiny balcony garden and has written an entire book on apartment gardening — more on that this spring. We definitely want to return to her book; it's a smart, practical, no-nonsense guide to what you really can grow on a balcony or in a tiny urban patch; less urban farming, more practical guide to what will actually work (think less about tomatoes, and more about sprouts, Amy advises for instance).
• Find it: Apartment Gardening: Plants, Projects, and Recipes for Growing Food in Your Urban Home, $12.89 at Amazon
And finally, she is also a cook and a cookbook author. She published a terrific book of recipes called Urban Pantry — which is not only about preserving (Indian Pickled Carrots, Plum Jam), but is also chock-full of smart, delicious recipes for people with well-stocked pantries. Recipes like Barley and Sweet Potato Salad, Spiced Yogurt Chicken, and Peanut Soba Noodles turn out to be just the sorts of things I want to cook in my own little kitchen.
• Find it: Urban Pantry: Tips and Recipes for a Thrifty, Sustainable and Seasonal Kitchen, $13.57 at Amazon (Skipstone Press, 2010).
And she does all of this from a kitchen that she describes as "dismal!"
I didn't find her kitchen dismal at all; it was small and plain (she's dying to paint the cabinets) but packed head to toe with good things. Amy welcomed me in with a loaf of soda bread, sliced and slathered with homemade plum jam. These jams and pickles are the jewels of her kitchen; open her pantry cupboard and you see stacks and rows of jam against a blue backdrop, like gems in a velvet case.
Amy is a big proponent of small-batch canning — so much more practical for small spaces and kitchens. She does just a few 1/2-pint or 1-pint jars at a time in her trusty Le Creuset Dutch oven, lined with a towel in the bottom, which she finds is just as good as a more fancy canning setup with a pot and a rack. "I can't have a canning pot," Amy explains. It's too big for her kitchen, and too big for her old electric stove.
"Besides," she says, "unless you're a big family, there's no reason to have more than a few pints of jam in a season. People have an idea it's a lot of work to can, but often this is because there is a misunderstanding of the process. If you have jam left over until next May, you made too much."
But her preserving habits go far beyond just canning and pickles. Everywhere I looked her kitchen had some little treasure tucked away — like the allium head you see just above, a drying giant chive flower, beautiful even now when perfectly dry. She had horseradish root thrown under the shallots, and there were big bunches of drying herbs casually looped up in baskets and on the wall. Peels and eggshells went into her compost jar (also pictured above) to be fed back into the ground later.
I asked Amy why she does preserve, especially given that it's not always less expensive to put up your own food. "I did tomatoes and saved only 3 cents a jar," Amy laughed. "Kind of on the fence about that."
But there are reasons to preserve that go beyond nostalgia for old-fashioned ways, she says. "I preserve because I like to eat seasonally and locally," said Amy, "I like fruit in the winter, and this is one thing that is certainly much cheaper to do yourself. Buy a flat of peaches and can them. And it's much tastier, too."
She's very practical about the process, however; if she had more freezer space, for instance, she would freeze peaches and tomatoes — just throw them in in bags. But given that most apartment-dwellers are really limited in freezer space, canning is more practical.
And beautiful, too — Amy's kitchen just glows with all these goodies. Dismal? Hardly. Delicious would be much more accurate.
Small Space Canning Essentials
Here are a few of Amy's essentials for canning in a small space:
• Stockpot with lid - For holding jars for water bath canning.
• Dishtowel - For lining the pot and helping maintain temperature.
• Tongs - For lifting jars in and out.
• Saucepan - For cooking jam.
• Wooden spoon - Stirring!
Thank you so much for letting us peek into your kitchen, Amy!
(Images: Faith Durand)
Kitchn supports our readers with carefully chosen product recommendations to improve life at home. You support us through our independently chosen links, many of which earn us a commission.