A Visit To Easy Tiger in Austin: Handmade Heritage Breads & Sausages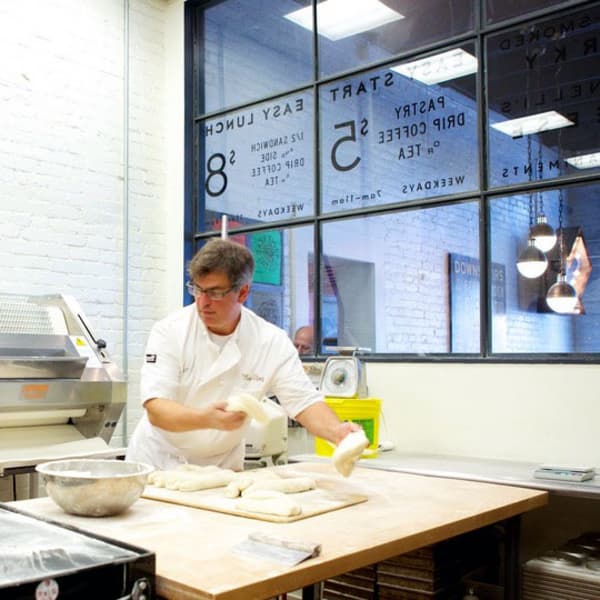 Who: Andrew Curren and David Norman
What: Chef and Baker, respectively, at Easy Tiger
Where: Austin, Texas
Five years ago my wife and I took a trip to Germany, and when we returned what we missed most from the trip were the pretzels. The dark brown salted exterior and the soft, chewy interior was perfection and like nothing we'd ever had in the States. Then late last year we began hearing rumblings of a bakery and beer garden opening up in Austin, one that would have chef Andrew Curren and his farm-to-table philosophy behind the traditional bratwursts and cured meats, and skilled doughpuncher David Norman at the helm of a bakery producing heritage breads. They called the place Easy Tiger, and when the doors finally opened the fare was all we ever imagined. The sausages were handmade and the breads were a perfected art.
Stay awhile. It's not just Easy Tiger's motto and the message you'll see emblazoned on various signs inside the restaurant; it's also the philosophy behind every decision and the force that's turned this beer garden and bakery concept into reality. Nestled in a historic building in downtown Austin with architecture that's over a hundred years old, people come in droves to feast on the traditional recipes from that era—a time when things were cooked with authentic ingredients and with a responsibility to the neighborhood, the community and its families.
Under the guidance of Chef Andrew Curren and Baker David Norman, Easy Tiger delivers these values to your table every day. The restaurant serves 250 sausages a night, bakes 600 baguettes a day, and cures 50 whole briskets each week for the legendary corned beef. Each and every one of these items is meticulously handmade and given the time to properly proof and age. It's no easy feat, but the people behind Easy Tiger believe these methods are necessary to produce something honest, authentic, and true to its heritage.
The Bakery + Kitchen
As you may imagine, churning out this amount of food each and every day requires some substantial equipment and operating facilities. When you walk through the doors of the business your eyes are directed to the lineup of breads hanging from wooden racks and the clean, expansive bakery displayed through a wall of glass panes. Standing most prominently in that space is the 27,000 pound oven, lined in solid concrete for maximum heat retention.
The sausages and cured meats are produced in an offsite commissary kitchen (located just a couple miles south of the restaurant) that's built to provide the cold temperatures and storage space required for the 7-day process of the sausages, and the 10-day cure of the pastrami and corned beef. The 100% all-natural (no hormones or antibiotics) meat is marinated for 24 hours before being fed through an industrial grinder. The ground meat is then stuffed into natural hog casings, 30 pounds at a time, then hung to cure in the refrigerated sausage cooler. After days of curing the links are either smoked or poached, before finally being shocked in an ice bath to produce a ready-to-eat 'snap' to the casings.
Secret Sauce
What makes Easy Tiger special is the respect its chefs and bakers have for classic techniques, and their desire to create food that is the best representation of how it tasted years ago. Andrew and David research all of their ingredients to make sure each one is authentic to the flavors you'd find in a French bakery or a German village.
The Business Plan
After his success with 24 Diner, Andrew had plans for starting two new separate ventures, a beer garden and a French restaurant. It wasn't until after trying a sample of David Norman's bread that he began to realize the role a bakery could play to both those concepts. Andrew and his partners' ability to be nimble and change their minds allowed them to make each idea more congruent with one another, and to create what Easy Tiger is today. There were several delays in the opening but they were adamant on not opening business until everything was ready—from the recipes to the prep to the service. Chef Andrew noted that when you open all eyes are on you, it's important for you to be ready to execute. There's no chance to adapt and change on the fly after that first impression.
The Community
Good quality food businesses have a way of changing the community. They raise the bar on what's expected, and create examples of how things should be done. When chefs, bakers, and cooks set aside the competition and form relationships with one another, everyone gets better and the community benefits. Easy Tiger does its part to cultivate this community by having conversations with local chefs, participating in pilot programs that help divert the restaurants' waste from landfills, and by supporting sustainable food programs that teach children and adults how to eat and cook better.
6 Quick Questions for Chef 'Drew' Curren and Baker David Norman
Favorite online resources for the kitchen?
Drew and David: J.B. Prince is really chef driven, a place where you can find the proper pullman loaf pans, etc. King Arthur Flour has a good online shop with specialized things for home bakers. Korin is a great for the home cook wanting to take the next step. They have a great collection of knives covering all price ranges, and that's where most my cooks get their equipment.
The one thing you can't live without?
Drew: As an avid fisherman nothing is better to me than being out on the water in undisturbed nature.
If you could spend a day with anyone, who would it be and why?
David: I always wanted to cook for Guy Clark. I love his songs and there's an element of food in several of them. He writes about food from a point of view of pure joy and pleasure. If I could barbecue and hang with him for a day that'd be great.
What's in your Google Reader?
Drew: I don't use that, but I get this thing called Smart Briefs with 7-8 articles that comes out 4-5 times a week and talks about trends in the industry on both the wine and food side. I also still revert back to my library of classic books written by classic chefs. One of my favorites is the Elements of Taste by Gray Kunz.
David: When I want a pastry resource I go to Desserts by Pierre Herme.
If you won a million dollars, what would you do with it?
Drew: At this point in my life, I'd buy a house and outfit it with a great outdoor kitchen with a smoker, barbecue pit, propane burner for crawfish boils, huge sink, wine fridges, kegerators and just tons of room for entertaining. There's nothing more I love than cooking and entertaining for others.
David: Buy a ranch and grow some wheat.
What is your most memorable food experience?
Drew: I've always wanted to go to Le Bernardin, which is Eric Ripert's restaurant in New York. It's been named one of the top restaurants in the US several times and when I finally went we got a 10-course chef tasting where Eric came out and talked to us and paired wines with every course and at the end of the meal I proposed to my wife. So that was a personal and culinary life-changing memory for me.
David: I remember this one bakery in Paris where they pulled this fougasse out of a wood-burning oven and there was just this smoky smell, and later when we tasted them there was this tinge of smoke in the bread. It was fantastic, and I've been trying to recapture that flavor ever since.
Thanks, Drew and David!
(Images: Chris Perez)
Kitchn supports our readers with carefully chosen product recommendations to improve life at home. You support us through our independently chosen links, many of which earn us a commission.