A Beautiful, Sad, Chutney Kind of a Day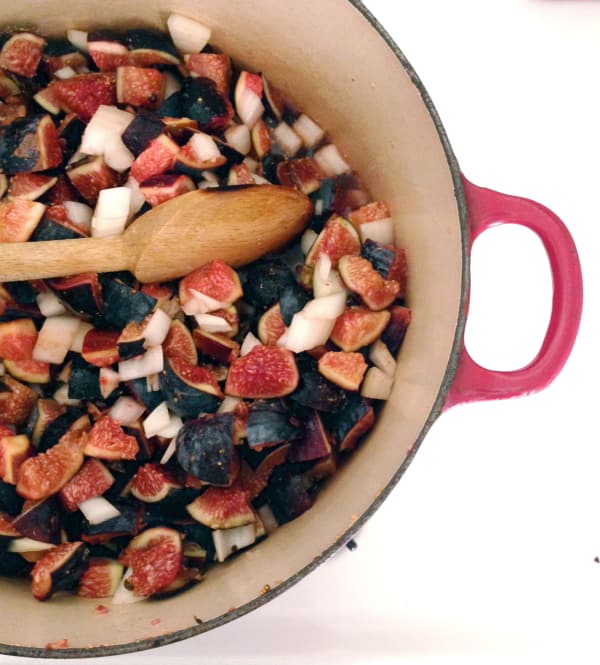 The weather last Tuesday was beautiful and perfect, one of those early autumn days with indigo skies and crisp, crackling leaves blowing around in the gutters. Outside my kitchen window, the sun was out in full but its texture was thinning and it had shifted to a lower, autumnal position. I could see my neighbor optimistically and cheerfully planting fall flowers and winter greens in our shared garden. I stopped by to say hello and considered pulling up the last of the basil but couldn't bring myself to do it. Not quite yet.
Tuesday was beautiful day but a sad one too. A turned-up-side-down kind of a day. Bad news had arrived the night before about the health of a friend, various plans were cancelled and others delayed, important calls went unreturned. Not to mention the government shutdown and other assorted shenanigans. Ugh. The clash of the beautiful day with my sorrow and disappointment was threatening to undo me so I did what I always do under such circumstances: I went in search of a kitchen project.
I didn't have to look far. The previous day had brought two gifts: a friend had sent me home with a sack full of ripe figs and the postman had delivered the brand new US edition of Nigel Slater's latest book, Notes from the Larder. Nigel and figs and some time spent in the kitchen. Now here was something that showed promise.
Notes from the Larder is a thick book (532 pages) and just leafing through it was a soothing activity. The paper under my fingers felt smooth and cool, the vast possibilities that something the size of 532 pages can offer was reassuring. The book is arranged seasonally, a diary in the year of someone who really cooks and, like me, can find solace in the kitchen.
I had just started to think that maybe browsing a cookbook was going to be enough when I turned to page 342: A Dark and Sticky Fruit Chutney. Yes, of course. A chutney was a perfect match for the day as it's the kind of recipe that requires the physicality of chopping along with a looser discipline around quantities and ingredients. Something to both hold me and set me free. Something to stir and tend as it grows thick and sticky and dark.
So out came my sharpest knife and an old, strong onion and soon the cathartic tears began to flow. They were followed by the joy of slicing figs (can there be catharsis in joy?), the deep purples and reds and pinks tumbling together into the cooking pot. Squinting at the recipe, I discovered that had too much of some things and not enough of others but the basics were there: fruit, onion, spice, vinegar, sugar.
This time of year gets deeply under my skin and because of this, I find that the weight of my life, with its various joys and sorrows, is more keenly felt. What I needed to help me be with it all was solace and celebration and I was lucky to find it so close at hand in a book generously written and a pile of figs lovingly given. Chutney making, with it's parade of lively ingredients and bracing vinegar and spice scent, was the perfect thing for my troubled heart. The dark, sticky, complex result was perfect, too.
The only thing left to do is to pack it into jars, four of them in all, and to give it away, keeping the gift and the inspiration moving and in play. One jar for the friend who gave me the figs, another for the friend who is sick, and another for the cupboard, stashed away for the unexpected. That leaves one jar left. I only wish Mr. Slater lived nearby, for surely it belongs to him.
* * * * *
PS. Look for more about Notes from the Larder and the Dark and Sticky Fruit Chutney recipe in a future post.
(Image: Dana Velden)