A Totally Modern Halloween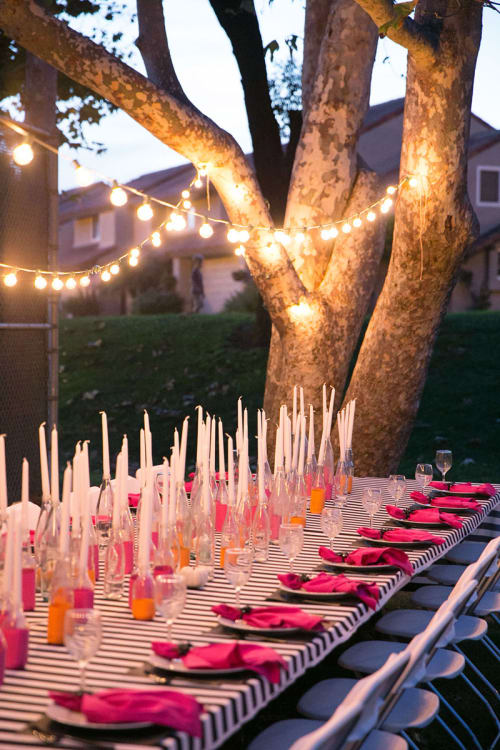 (Image credit: Rad & Happy Photo)
I've got more stripes in my closet than a J.Crew catalog, so you could say I'm a fan. People think of them as preppy, nautical, even Parisian. Well, why not Halloween-y? Beetlejuice rocked a black-and-white-striped suit, after all.
Bloggers Merrick White of Merrick's Art and Sara Walk of Tell Love and Party worked stripes into their latest Halloween party, and I'm not mod — I mean, mad — about it.
(Image credit: Rad & Happy Photo)
Instead of going the eerie route as they had before, the blogger besties created a bright, whimsical setup that centered on a giant dining table dressed in a mod black-and-white-striped fabric. What's great about using yardage from a bolt for a tablecloth is that you can just cut it to size — no sewing necessary. They also used a similar material as their photo-booth backdrop.
(Image credit: Rad & Happy Photo)
For the centerpieces, the bloggers collected a bunch of clear bottles and dipped the bottoms in pink and orange paint. Technically, those bands count as stripes, too — at least in my book. The bottles were lined up down the table, and each was used as a candle holder. Pumpkins were added in here and there to reinforce the holiday theme.
(Image credit: Rad & Happy Photo)
Even the desserts got in on the stripe action, with some of the sugar cookies sporting pink bands and dot patterns.
I'd say they earned their party-decorating stripes with this one. The result is happy, Halloween-y, and totally unexpected.