The Top 5 Paris Patisseries for Your Bucket List, According to a Pastry Chef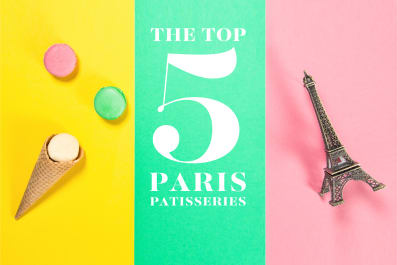 (Image credit: Susanna Hopler/LiliGraphie/Shutterstock)
As the owner of a doughnut shop in Paris, I'm often asked how I started making America's humblest breakfast pastry in a city famous for its haute pâtisserie. The short version is this: I love doughnuts (who doesn't?). I love them plain, warm and just out of the fryer; I love them dolled up with whiskey and bacon; I love them topped with meringue and filled with rhubarb compote and pastry cream.
The longer version goes something like this: I graduated from Le Cordon Bleu Paris with a Diplôme de Pâtisserie in 2004 and moved to Dublin, Ireland. I stayed there for eight years working in kitchens, coffee shops, and bakeries before returning to Paris in 2012 with an Irishman named Louis and a plan to open a pastry shop of my own.
It was a trip home to the States — specifically the feel-good vibes and euphoric fried offerings at a local bakery in Beach Haven, New Jersey — that inspired us to bring America's classic confection to our adopted hometown. Boneshaker doughnuts are made using a mix of traditional French pastry techniques and old-school doughnut methods. Our original doughnut, rolled in cinnamon sugar, is named in honor of the town where it all began.
When we opened, handmade doughnuts were nonexistent in Paris, but the city's culinary scene was rapidly evolving. These days, it would seem that whiskey-glazed bacon doughnuts are as accepted in Paris as buttery croissants are on the other side of the Atlantic.
Of course, one cannot subsist on doughnuts alone and the city's celebrated sugary offerings are never far from my mind (or mouth). The destinations listed here are my favorite spots to indulge my sweet tooth. They range from homestyle to high-end, and would make for a varied and delectable trek through the city should you wish to follow suit.
Tip: Take advantage of Paris' self-service bike rental scheme, and use a "Vélib'" to get around. Cycling is a great way to sightsee, and makes justifying any impromptu bonbon binges that much easier. Just be sure to stick to the cycle lanes, and give buses a wide berth — Parisian motorists can be a little bonkers!
133 rue de Turenne, 3rd arrondissement
Simply put, a trip to Paris is not complete without a pilgrimage to pastry god Jacques Genin's flagship in the Marais, near Place de la République. Whereas most pastry chefs have one specialty, Monsieur Genin is a virtuoso of chocolate, candy, and pastry! Chez nous, Louis knows not to come home on birthdays or anniversaries without a telltale JG embossed metal box tucked under his arm.
What to get: If you have time, take a seat in the café and sample the tarte au citron. Genin's bright and velvety lemon curd, often infused with seasonal herbs, is encased in an immaculate, golden tart shell. Each pastry is made to order in the atelier upstairs.
Make sure you pick up a selection of chocolates, caramels (the passionfruit caramels, oh, the passion fruit caramels), and fruit and vegetable jellies before leaving.
23 rue lourmel, 15th arrondissement
A short walk from the Eiffel Tower, this French/Australian-owned coffee shop has impeccable flat whites — and the best banana bread in either hemisphere.
What to get: Order the banana bread sur place: a thick slice comes to your table hot, slightly crisped around the edges, and slathered in melting butter.
226 rue de Rivoli, 1st arrondissement
This tea house is a true grande dame of Parisian decadence: the hustle and bustle of waiters in black bowties and waitresses in white pinafores, the gilded ceiling, the coiffed bouffants of the ladies-of-a-certain-age, and, of course, the famous chocolate brew.
What to get: The pastries here are pretty (and pretty good) but without question, one comes for their timeless chocolat à l'Africain, served with an accompanying mountain of whipped cream.
16 rue Elzévir, 3rd arrondissement
The Lille-based bakery, founded in 1761, is one of the oldest in France. Luckily for me, they have an elegant Parisian outpost in the Marais.
What to get: Pop in, select one of their famous gaufres — thin, soft, waffle sandwiches with different fillings — and make like Marie Antoinette. My go-to filling is vanilla cream, made from Tahitian vanilla beans.
30 rue Pierre Fontaine, 9th arrondissement
Chocolate maestro and local legend Denise Acabo has presided over this Montmartre institution for over 40 years, filling its display cabinets with only the best French chocolates. (A gas explosion leveled her shop in 2014, but she reopened a year later, to the delight of her many devotees.) The last time I was there, just before Easter, she pressed a confit kumquat enrobed in dark chocolate into my palm, eagerly awaiting my reaction. "They're extraordinary!" she exclaimed. She was right.
What to get: Whatever Madame Acabo recommends. She is the only stockist in town for many hard-to-find chocolates and vintage candies, including the famed bean-to-bar Bernachon chocolate bars.
Your turn: What's your favorite sweet shop in Paris?