Could a Supper Club Be Helpful for Those with Eating Disorders?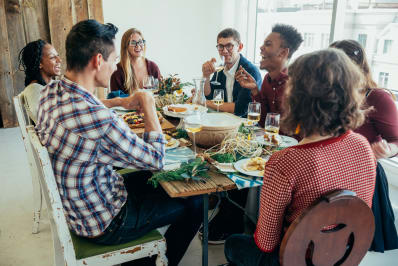 (Image credit: Studio Six/Stocksy)
Eve Simmons is a busy London-based journalist who co-authors Not Plant Based, which seems to be one of the only lifestyle blogs that doesn't try to overwhelm you with Instagram posts selected for maximum FOMO. Simmons and site founder, Laura Dennison, have both suffered from eating disorders; their site provides what they describe as "honest, non-patronizing advice" for those who might have their own complicated issues with food or exercise.
But Not Plant Based is also for anyone who wants to read whip-smart commentary about what life is really like, including all of its messy parts and imperfect edges. And yeah, it's funny as hell. "We are not healthcare professionals, we are not a charity, we are simply people who have been through the same old sh*t that you have," they explain.
Earlier this month, Simmons launched what has been described as the United Kingdom's first supper club for people who are in various stages of recovery from their own eating disorders.
"It's assumed that people who suffer with eating disorders and disordered eating don't like food, but they do," Simmons told The Telegraph. "Everyone likes food, but eating disorders are about self-control, and not letting yourself do what as human beings we're supposed to do."
Read more: Eatings Disorders vs. Disordered Eating: What's the Difference? from NEDA
We spoke with Simmons shortly after she'd washed and cleared all of the dishes to find out what inspired her to turn hostess (spoiler alert: the night was a success), what surprised her, and why we probably need to borrow her friend Dave.
What made you decide to host this event, a supper club-slash-support group?
The idea had been swimming around my head ever since I was in inpatient treatment for anorexia over three years ago. My onset was relatively sudden, and I had always loved food, so it was baffling to me that the treatment posed food in such a fearful context. There were rules, regulations, etc., and it frustrated me.
Despite what the nurses thought, most of the girls really wanted to recover and were desperate to do it in a way that would prepare them for normal life! We did a cookery class and the nervousness of the staff rubbed off on the patients, which meant they were all slightly terrified — until I came in bashing digestive biscuits for my cheesecake and they realized it wasn't that scary.
Then at our [website's] first birthday party, someone told me that hearing the conversation about the subject and feeling comfortable, safe, and supported meant she could eat red velvet cake for the first time in years. It was unbelievably emotional, and made me realize how powerful the experience of being around strong, empowered women who pose as positive eating role models can be.
How did you plan the menu for that night?
To be honest, I just cooked what I know I am good at! I spent about three weeks testing recipes to make sure I didn't poison anyone (my boyfriend was happy!).
I knew that I wanted to make an array of veggie and meat dishes (well, one meat) and make sure there were enough strong flavors and beautiful plates to entice people. I saw it as I would if I were cooking for anyone: Beautiful, delicious food is love and everyone is deserving of it.
Obviously I steered clear of any cheese-laden lasagnas or creamed potatoes, but I wouldn't really cook that stuff for my friends anyway. I feel like people are always more delighted by lighter sharing plates. I also wanted to scatter the dishes across the table in smaller bowls so that no one felt intimidated to help themselves — and I sat next to a girl who I knew was particularly struggling so I could chat to her and eat like a horse for #inspiration.
It seems like there was a lot of interest after you mentioned this possibility, so how'd you determine who would attend?
I asked everyone to email me with a little about their story and where they were in terms of recovery. This was super important, as there's a risk for eating disorder sufferers to be triggered by others. I also didn't want to profess to be able to care for those who are very physically sick, as it would be irresponsible of me. One day, I hope to be able to employ people with the right qualifications so I can offer the support to everyone, however far along they are.
What was the most surprising aspect of the evening?
How quickly people felt comfortable. It really was spectacular. The power of shared experience is moving to watch: just knowing the girls were not alone seemed to be enough to get them to talk openly, which is something many hadn't done before. One girl hasn't even told her mum [about her disordered eating]. I'm also shocked that I managed to pull it all off without having a nervous breakdown.
Is there anything that you would do differently the next time you host an event like this?
I'd get someone else to help with the washing up! It wasn't fair to load it all on to my (very wonderful and supportive) boyfriend.
If you were approached by a potential host or hostess, what would you tell them?
If anyone asks, I'd say choose dishes that are as little stress as possible and prep ahead if you can. Most important is to make sure you aren't hidden away in the kitchen all evening. Being present to offer that vital support — and eating example — is really key. I also found it helpful to have a friend of mine, Dave, who has recovered from [anorexia] and is now a comedian. He was fantastic at breaking the ice and prompting conversation. If you can, find yourself a Dave!
Thank you so much for speaking with us!
This interview has been edited for length and clarity.