A Simply Better Summer Snack: Peach, Blueberry, & Cream Cheese Toast
Something about summer makes me want to simplify. Maybe it's the long, warm days tugging me out of the kitchen and into the sun, or maybe it's the abundance of perky produce begging to be no more than subtly embellished. Maybe it's both. Either way, this seasonal snack of toast, fresh fruit, and Arla Original Cream Cheese is exactly the kind of thing I'm craving. It's made with simple ingredients yet checks all the boxes for a perfect snack: crunchy, creamy, and juicy.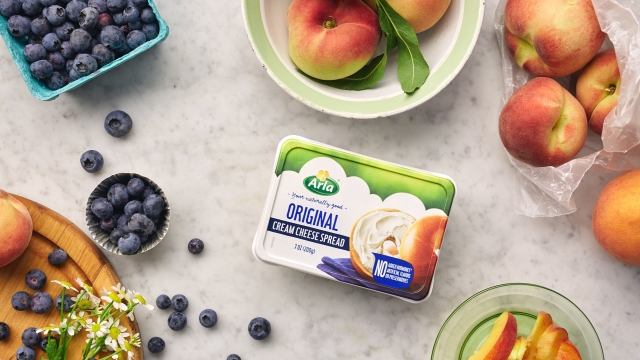 I start with toast, then layer on cream cheese, blueberries, and peaches. The key is to select the best version of each, like a nutty, multi-grain bread, local blueberries, and ripe, fresh peaches. I recommend using a high-quality cream cheese, too, so I chose Arla. Some cream cheeses have added thickeners like xanthan, guar, or carob bean gum. Arla Original cream cheese has just four ingredients (cream, skim milk, salt, cheese culture) and no thickeners or stabilizers. It's not just simple – it's simply better.
I love how the fruit, bursting with sweetness, pairs with the mild and creamy cheese. Think of the appeal of peaches and cream or berries and cream but served on an edible, wholesome vessel that also contributes a pleasant crunch. Most importantly, I can make it in less than five minutes and carry it right out to the pool, the porch, or wherever the summer takes me.
Ready to create your own simply better summer snack?
Check out Arla's entire line of cream cheeses and tell us your favorite cream cheese combo!