A Newbie Parent Survival Guide to Halloween and Trick-or-Treating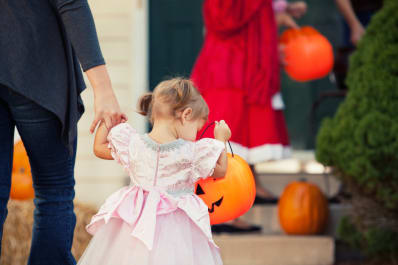 (Image credit: Photo: Sean Locke/Stocksy)
So, you're a parent now. And you can't remember the last time you trick-or-treated. It's lost in the fog of pre-high school memories, with some dim glorious idea of romping around your suburb after dark. But you have a toddler or a grade schooler, ready to trick-or-treat for the first time, and suddenly Halloween means something again. Where to start?
Here are seven tips I've picked up over the years for keeping my kids happy, safe, and well-costumed. You're the parent now — don't mess this up.
My kids are decidedly older (14 and 10) but I'll never forget those first few Halloweens we went trick-or-treating. When my older son Henry was 3, we made him a robot costume: a Crate and Barrel box wrapped in aluminum foil, with a foil-covered bowl on his head. I imagined a bespoke old-timely robot, but the reality was less Etsy and more oops: The box was too heavy to walk in; the hole so large it kept slipping down and tripping him up.
So we ditched the box and Henry became that kid with the mixing bowl on his head. He was happy (candy does that to a child) and we learned a lesson: It's best to leave costume-making to professionals and actually crafty parents.
I've learned a few other things over the years. Here's what you need to know to make a night with small children, long flowing costumes, poor visibility, candles, and candy as safe and stress-free as possible.
1. Order pizza (and do it early).
You know how it's a bad idea to go grocery shopping on an empty stomach? It's also a bad idea to go candy collecting on an empty stomach. If your child is starving, you are sure to lose the battles over not eating the sweets until you get home. A pregame pizza party is a super-fun way to ensure kids aren't famished.
Every year, my neighbors and I meet up at one house for slices (for the kids) and wine in red plastic cups (for the parents). I probably shouldn't be writing about this, but let me tell you, a splash of Pinot Noir sure takes the edge off of following your kids from house to house. To house. To house.
2. Don't burn through cash on costumes.
Twice I've bought my kids two sets of costumes. I want that money back. I got 4-month-old Henry a blue fuzzy monster onesie that was just the most precious thing — and the most poorly made thing. It immediately starting shedding big clumps of metallic blue fibers (just what you want next to your infant's mouth). I replaced it with a sensible peapod. Total money blown? $125 on costumes for a child too young to trick-or-treat!
Then, when Gus was not yet 2, my husband came home with a vampire suit for him. It was uber-cheesy, with a cheap red cape and fabric so polyester a warm breeze would have ignited it. I rush-ordered an Elmo. And wouldn't you know, Gus spiked a fever on Halloween and never wore either look.
3. Have a dry run.
In retrospect, we should have let Henry test the Crate and Barrel box around the house first. And it isn't just homemade costumes you need to test out. Try on that Party City find to make sure there won't be any eleventh-hour disasters. Capes can be too long, eye holes too small — or onesies too small to snap over those adorable baby rolls.
Also worth a check: Can they inhale and exhale? Henry insisted on a morph suit two years ago. As he was walking out the door, he begged, "I can't breathe. I need you to cut a mouth hole." Takeaway: Kids need to be able to breathe, even on Halloween.
4. Be seen.
For kids under the age of five or six, it's less scary to go out around 4ish, before it's dark out. But no matter what time you head out, darkness often sneaks up on you so it's essential to make sure the kiddos are visible.
According to the American Academy of Pediatrics (AAP), pedestrian accidents are the most common injury to children on Halloween. Give everyone a small flashlight. Add reflective tape to costumes. You can also pile on a glow-stick necklace (just make sure your child is past the stage of trying to eat it, as Henry did once after a birthday party).
5. Have a no-candy-until-home rule.
We stand firm on this one. Candy tampering is very rare but who wants to chance it? The AAP advises that parents sift through and throw out anything not properly wrapped or that looks suspicious.
Surveying the goods is especially essential if your child has a food allergy, as Gus does. "Plain" chocolate often packs tree nuts, peanuts, milk, and soy, four of the top eight allergens.
6. Buy candy that doesn't rock your world.
If you don't want to be tempted by your all-time favorites (Twix leaves me powerless), buy only the meh stuff (candy corn and Twizzlers are on my blech list). Or you could follow my mom's lead and buy your dream bars (hers were Hershey), with the express intention of enjoying them all fall.
7. Do good and save their teeth.
More and more schools are teaming up with nonprofits that collect candy to send to the troops. Every family has their own formula for how many pieces kids can keep, but the idea is to save a small stash and donate the rest. My kids do this grudgingly, to be honest, but I hope it's teaching them when times are plentiful (the day after Halloween) we share what is most precious (Kit Kats) with those who could use a lift (people serving our country).
And as a bonus, it gets those chocolate temptations safely out of my reach.
Kitchn supports our readers with carefully chosen product recommendations to improve life at home. You support us through our independently chosen links, many of which earn us a commission.