A Neighborhood Walk in New Orleans: The Garden District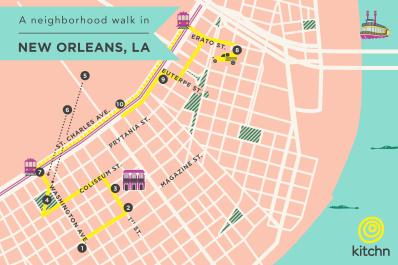 (Image credit: Rotem Raffe)
We love to travel, but a new town can feel overwhelming, especially if time is tight. Our Bite-Sized Guides lift the pressure to sort through every recommendation and review, and give you the perfect introduction to a new town, with a walking tour of just one neighborhood we love.
For New Orleans we chose the Garden District, renowned for its oak-lined streets and Victorian homes. Guided by chef Kristen Essig, who works and lives in the neighborhood, our illustrated, step-by-step walk explores a less boisterous (although no less delicious) side of New Orleans. Even if you're not traveling anytime soon, you can laissez les bons temps roulez with a five-minute virtual vacation at your desk.
(Image credit: Tara Donne)
Why the Garden District?
If you visit New Orleans, you will almost certainly spend time in the French Quarter, and rightly so. But there is so much more to this city than boozy Bourbon Street and beignets buried under a mountain of powdered sugar: Frenchman Street in the Marigny is the place to hear live music; wander into any club and you'll find a different beat. Green-seekers should seek out the sprawling City Park with its moss-draped oak trees and outdoor sculpture garden, and then there's the West Bank, where pho and banh mi are more prevalent than gumbo and po' boys.
But we chose the Garden District for a few reasons. First because if you picture New Orleans in your mind's eye, you will surely conjure this neighborhood, bounded by the stately mansions along St. Charles Avenue and the restaurants, shops, and bars of Magazine Street on the other, with a canopy of oak trees above.
It is also true that the Garden District, for all its grandiose Queen Anne Victorians and moss-draped oak trees, is a place where locals who aren't named Jolie-Pitt live and work and walk their dogs and ride their bikes down streets riddled with potholes. Like New Orleans, it can be a bit rough around the edges. There is history in the hoary crypts and beneath the turquoise and white awnings of Commander's Palace, and there are newcomers, like French Truck Coffee, housed in a canary-yellow shotgun where the Lower Garden District bumps up against the interstate underpass.
(Image credit: Tara Donne)
Our tour starts at Coquette, where our guide, Kristen Essig, is chef and partner (along with Michael Stoltzfus, who is her partner outside the kitchen as well). A bar runs almost the entire length of the narrow dining room, and we wouldn't discourage you from ordering a cocktail (perhaps a bourbon bramble with Louisiana strawberries) to go with your prix-fixe menu, which may well be the tastiest deal in town.
But go easy because there are more drinks to be had later on, at one of our favorite new spots to imbibe: Hot Tin at the Pontchartrain Hotel. In between you can take a gander at Anne Rice's home, peruse the tombstones of immigrants and native sons, and find inspiration at a local T-shirt shop. Ready to go?
A Neighborhood Walk in New Orleans
2800 Magazine Street, 504.265.0421
Coquette is one of those places you want in your neighborhood. It is the kind of restaurant you will never tire of going to, in part because Southern fried chicken and shrimp and grits (especially when they're from Bellegarde) will always be a good thing, but also because smoked catfish dip with satsumas and black sesame seeds or sunchoke soup with oysters dill and nasturtium will show up on the menu.
The building itself, which was built in the late 1880s, housed a family grocery store, an auto parts store, and three different restaurants before Coquette opened in 2008. It's been a consistent pleaser ever since — especially now that Kristen has joined Michael as chef and partner.
1101 First Street, 504.941.7010
After lunch, stretch your legs with a stroll down Magazine Street, which is lined with shops, bars, and restaurants for as far as you can go in either direction, from downtown to Audubon Park. Turn right out of the restaurant and walk until you get to First Street and Defend New Orleans.
Known for its T-shirts, which support nonprofits like the Art Council of New Orleans, Youth Rebuilding New Orleans, and the Gulf Restoration Network, the shop also sells books, records, and prints. Plus, they have one of the best quote boards outside their shop. Kristen's most recent favorite: Risk something or forever sit with your dreams.
(Image credit: Tara Donne)
3. Anne Rice House
1239 First Street
The Garden District is not short on impressive mansions: the Payne-Strachan House where Jefferson Davis passed; the Museum Bell House, owned by the uncle of Edgar Degas; and the Walter Grinnan Robinson House, which, notes Essig, used to have a parrot that lived on the second-floor porch who was hated by the neighbors). But Kristen's top pick is the Anne Rice House, on the corner of First and Chestnut.
"It's an amazing home, even from the outside. Inside is more extraordinary still, especially the solarium at the very top. It's a beautiful room, completely walled with windows with views of the Crescent City Connection (the bridge that connects the east and west banks of the Mississippi river), decorated with a circus tent-type ceiling, Moroccan-inspired sconces, and vibrant pillows and throws."
(Image credit: Tara Donne)
4. Lafayette Cemetery No. 1
From the Anne Rice, turn left on Coliseum and make your way to Lafayette Cemetery No. 1, which takes up a full city block. There are more than 10,000 people buried there, including Judge Ferguson (of Plessy vs. Ferguson) and immigrants from more than 25 countries. Movie buffs may recognize the cemetery from the 1999 movie Double Jeopardy.
Tip: "The other fantastic thing is that the cemetery is located directly across from Commanders Palace!" says Essig. You'll need to be dressed for the occasion, but a boozy brunch here is an essential New Orleans experience.
2727 Prytania Street, 504.895.2266
If you exit the cemetery on Washington Avenue and hang a left, you'll hit the Rink Shopping Center. It's not the most design-forward destination, but it is home to two noteworthy stops. The first is the Garden District Book Shop, where you can pick up guidebooks, cookbooks, and art books about New Orleans as well as novels by local authors including, of course, Anne Rice.
(Image credit: Tara Donne)
2727 Prytania Street, 504.304.2047
You should should also stop in at Loomed for beautifully curated Turkish towels, throws, blankets, and scarves. Store owners Molly and Paul Babineaux lived in Istanbul for a year and loved the textiles so much that they brought them back to New Orleans with them. "They travel to Turkey often to work with independent loomers, who work with organic textile standards," says Essig. (If you're lucky you'll get to meet Alice Tallulah, the unofficial mascot of Loomed.)
Our favorite pick? The Row Peskir, a fringed tea towel that's perfect for the kitchen and the bath. We snapped up three in Dusty Coral, North Atlantic No. 96, and True Black.
Walk up Washington to St. Charles Avenue and hop on the street car. Riding the street car (it's not a trolley!) is an iconic New Orleans experience, but, says Essig, many residents use the street car as their primary source of transportation. So make sure you have correct change ($1.25) or you can download the app, which lets you buy passes and navigate the sometimes "un-timely" schedule.
(Image credit: Tara Donne)
1200 Magazine Street, 504.298.1115
Hop off the street cart at Erato Street and walk down to Magazine, where you can't miss this bright-yellow coffee shop, which often has a matching Citroen parked out front.
"French Truck Coffee, owned and operated by my friend Geoffrey Meeker, is not only the shop that roasts the custom blend for our restaurant, but it's also my neighborhood coffee shop," says Essig. And we're seriously envious. It's fun to watch the Japanese cold brew tower, and the baristas can make an excellent cappuccino, but we're partial to the New Orleans Iced Coffee, made with a custom blend of chicory and coffee and served just sweet enough over crushed ice.
1720 St. Charles Avenue
With your iced coffee in hand, backtrack to Prytania and turn left. Make a right at Euterpe, then a left at St. Charles, and you'll arrive at this collaborative space, which houses Ellen Macomber's Fine Art & Textiles and Britta Barlogie's SoPo (short for Southern Posh).
"Ellen has a fantastic eye that she shares with her textile design, curated costumes, and glass paintings," says Essig. "Britta's store perfectly complement's Ellen's aesthetic; she's proud to support international design for clothing, jewelry, accessories, and home goods using her Southern hospitality as a guide."
(Image credit: Tara Donne)
2031 St. Charles Avenue, 504.323.1452
A few blocks on St. Charles Avenue is the Pontchartrain Hotel and it's one of our favorite of the city's bumper crop of new places to lay your head. But even if you're not staying there, you should definitely stop in for a drink at this rooftop bar. The views are truly the best in the city, but the interiors are just as captivating. We wouldn't blame you for cozying up on one of the plush sofas — or perhaps the throne-like chair would be more fitting? The cocktail list is thrilling and we can personally recommend both the Blanco y Blanco and the Sweater Weather.
Kitchn supports our readers with carefully chosen product recommendations to improve life at home. You support us through our independently chosen links, many of which earn us a commission.