A Mom of 2 on What It's Like Feeding Her Family in Japan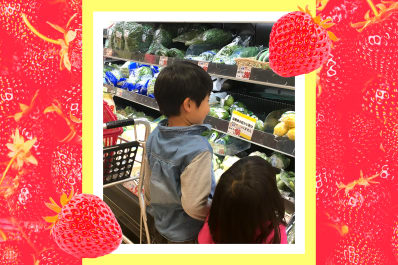 (Image credit: Aiko Tokunaga)
Aiko Tokunaga is a mom of two living in Tokyo, Japan. She's spent a lot of time living in the United States, both for school and after, but has only cooked for kids in Japan. Her experience involves something many of us don't think about on a daily basis: food safety.
Since the 2011 earthquake in Japan's Fukushima prefecture, there have been concerns about radioactive contamination from the Fukushima nuclear power plant, so much of what Aiko does for her family involves finding great, safe foods.
We talked to Aiko about what her day-to-day life is like in Japan.
What is your general approach to cooking for your family?
I try to pick safe foods for my family. I try not to buy vegetables or meat from near Fukushima prefecture — in Japan, food is usually labeled with where it's grown, so you can see whether or not it might be dangerous. If there are organics available, I also prefer buying those.
Where do you do your grocery shopping?
There are three or four supermarkets in my neighborhood, so I usually go to one of them after I drop my daughter at school, maybe three times per week. Also, I recently started ordering organic vegetables from southern Japan (which is far from the nuclear accident) online.
What does your family eat for breakfast?
For breakfast on weekdays, I usually feed myself and the kids rice or bread, plus eggs, ham, broccoli, tomatoes, strawberries, and yogurt. (My husband eats at work.) On the weekends, my husband cooks vegetable soup and omelets for us.
And what about lunch and dinner?
We often eat rice, salad, miso soup, natto (fermented soybean), and a meat or a fish. My husband, who is an amazing cook, makes great gyoza.
What foreign foods do you eat regularly in your house?
We eat a lot of bread, yogurt, curry, and dumplings.
And are there any foods you miss from your time living in the United States?
Yes! I miss good Vietnamese food, Thai food, and Mexican food, which is harder to get in Tokyo.
Thank you for talking with us, Aiko!