A Fun & Casual Party with Ore-Ida® Simply French Fries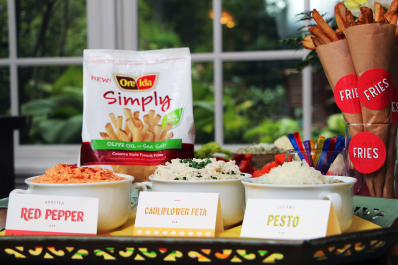 (Image credit: SAY Media)
The last month or so we've been preparing for a fun, casual party centered around French fries. So far we've shown you three gourmet dipping sauces that pair perfectly with Ore-Ida® Simply Olive Oil and Sea Salt French Fries and cute printable cards to dress up a party table for fries and dips. Now that we have everything we need for the event, it's time to set up for a party!
In the video above, The Kitchn editors Cambria Bold and Ariel Knutson explain why they use French fries for a party with friends and how to set the whole thing up. As you'll see, with little effort and great ingredients, this party is easy to customize for your friends and family.
As Cambria and Ariel explain in the video, throwing a great party for your friends on a Friday night doesn't need to be stressful. By serving a delicious, yet easy snack like Ore-Ida® Simply Olive Oil and Sea Salt French Fries with easy gourmet dipping sauces, you can enjoy entertaining without the stress. The quick addition of the free printables on the fries and party table make everything just a little more special.
(Image credit: SAY Media)
Now all you have to worry about is restraining yourself from eating all the fries before your guests arrive!
Comments have been disabled.