A Brief History of Peking Duck in America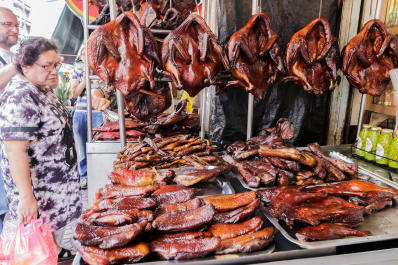 (Image credit: TOMPOST/Shutterstock)
When you think of any Chinatown in any city in the country, the image that springs to mind is almost always of glistening, lacquered ducks hanging in the storefronts. (Whether those are Peking ducks or not is up for debate, but I digress.) Peking duck has long been one of the iconic Chinese dishes, and it's easy to see why — the tableside preparation, the communal eating, the multiple courses, the pure deliciousness of it.
What exactly is it?
Peking duck (sometimes called Beijing duck in China), is a succulent, crisp-skinned creation made by pumping air under the skin of the duck, which helps the fat render out more completely when it's roasted, leaving incredibly crispy skin in its wake. The bird is hung to dry overnight and coated in a sweet syrup and spices before it's cooked in an oven, ideally over fruit wood.
Although the procession of courses varies slightly from restaurant to restaurant, it usually starts with a chef carving the duck tableside and serving the skin, or skin with succulent bits of meat attached, along with thin flour pancakes, hoisin sauce, scallions, and possibly cucumber batons. A stir-fry using the duck meat follows, and a milky soup made from the carcass concludes the feast. Duck bone broth, if you will.
Where does it come from?
Unlike other greatest-hit Chinese restaurant dishes, like chow mein or General Tso's chicken, which were made in America, for Americans, Peking duck has a deep legacy in China. It dates back to the Yuan Dynasty more than 1,000 years ago. The first restaurant in China to serve Peking duck was in the 15th century, and it's still eaten in the capital city today. The restaurant Quanjude in Beijing claims to have served around 200 million of them during its 150-year run.
Even though the Chinese food served in the U.S. skewed Cantonese well into the 20th century, Peking duck, a specialty from northern China, made it onto the menus of high-end Chinese-American restaurants early on. "Long before it was served in America, it had transcended purely regional status and was one of the renowned gourmet dishes that professional chefs in palaces or great households in all wealthy cities would have learned to prepare for formal banquets," says Anne Mendelson, author of Chow Chop Suey: Food and the Chinese American Journey.
Mendelson points out that the 1963 book Eight Immortal Flavors, by the restaurateur Johnny Kan and Charles Leong, reported that the duck farmer Otto Reichardt, Sr. had been supplying White Imperial Peking ducks, bred and raised specifically for the dish, to San Francisco restaurants since 1901.
How did it get so popular?
It wasn't until after WWII that Peking duck became a more common sight on Chinese restaurant menus. This was facilitated in large part by the arrival of diplomats representing Mainland China in New York City and Washington D.C., who came with household staffs that included highly skilled cooks. Many of those domestic workers went on to open upscale Chinese restaurants. One of them, The Peking Restaurant in D.C., was founded by C.M. Loo, a former Chinese diplomat's chef, in 1947. You can be sure Peking duck was on the menu. "Peking duck became one of the most renowned special dishes in the new crop of restaurants founded by chefs leaving household-staff positions to start their own restaurants in the 1950s and '60s," says Mendelson.
The Cold War ushered in a new era of Chinese restaurants in the United States. Restaurants got fancier, served non-Cantonese food, and charged much more money than the chop suey houses that came before. Legendary San Francisco establishments like Kan's and Mandarin by Cecilia Chiang opened around this time, and were frequented by celebs and other well-heeled regulars. By 1955, Jane Nickerson of the New York Times equated places specializing in Peking duck with "sleek establishments."
A search of the New York Times archives shows a spike in mentions of Peking duck in the '60s and '70s, due in large part to the attention dining editor and critic Craig Claiborne was paying to the new breed of Chinese restaurants. It seems that he sampled Peking duck at nearly every Chinese restaurant he reviewed, of which, by his own admission, there were many. He even ran his own recipe for it in 1971. "It was then that U.S. gourmets decided Cantonese cooking was old hat and the style associated with Mandarin-speaking Northerners was real Chinese cuisine," says Mendelson.
Nixon's historic visit to China in 1972 gets much of the credit for the American preoccupation with all things Chinese that followed. A televised banquet that showed a chopstick-wielding Dick and Pat nibbling away at one dish after another, including Peking duck, made viewers want what they were having.
Almost overnight, restaurateurs in the U.S. recreated the meal that the Nixons had in Tiananmen Square to capitalize on banquet fever. Just six months after Nixon's visit, this headline appeared in the New York Times: "Chinese Restaurants Flower Following Diplomatic Thaw." In it appears the following quote on Peking duck: "When we opened," said Susan Sih, co-owner of Chicago's Dragon Inn, "I couldn't give away a Peking duck. And then President Nixon went to China. He's been the greatest salesman for Peking duck. Now many people want it."
Kitchn supports our readers with carefully chosen product recommendations to improve life at home. You support us through our independently chosen links, many of which earn us a commission.