9 Holiday Sweets That Will Help You Feel Good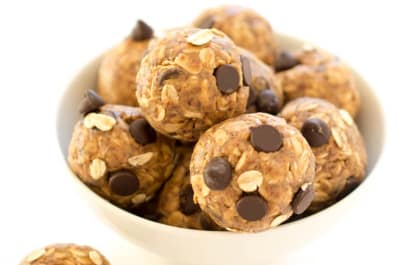 (Image credit: Chef Savvy)
Trying to eat healthfully during the holidays is tough, but it's not impossible. We don't have to deprive ourselves over the holidays, but we don't have to go overboard, either. These 10 recipes have been keeping me on track for years now. They don't take any more time than traditional holiday treats, and the ingredients aren't fussy.
These energy bites from Chef Savvy are so tasty, and the added chocolate is just enough to indulge your sweet tooth.
Oatmeal cookies are so comforting, and the added tartness from the cranberries in this recipe is top notch. For added flavor, you can roll the balls in coconut.
These brownies are sweetened with dates and maple syrup. The raspberry sauce makes it a decadent dessert. My kids love them.
Get your pumpkin fix with these small bites. This recipe happens to be sugar- and gluten-free.
Treat yourself to these four-ingredient apple pie blondies from The Big Man's World. They are so easy to throw together and I've found when I bring them to parties, even those who aren't trying to be healthy fall in love with them.
Look how cute these tiny sweet pies from Nadia's Healthy Kitchen are. Look! These bites are made with oat flour, coconut, and dates.
These bars from Scrummy Lane make an amazing display fanned out on a platter with fresh oranges, or wrapped in clear cellophane with a gold ribbon to pass out to the neighbors.
We all have chocolate cravings, and this no-bake chocolate tart from Lee Lalicious will fix that really fast. I love how she added fruit and nuts to the top to make it extra decadent.
(Image credit: My Vibrant Kitchen)
If you are going to try a vegan cheesecake, this recipe from My Vibrant Kitchen is the one. It takes just over a half-hour to make and you won't even miss all the dairy.
What are your favorite healthy treats? Let us know in the comments!