8 Reasons the 4th of July Is the Best Holiday of the Year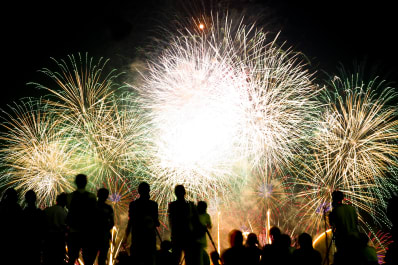 (Image credit: dwph/Shutterstock)
Sorry, Christmas, you are not the best. Same for you, Hanukkah, Thanksgiving, Flag Day, and all you other holidays. The 4th of July is America's best holiday of the year. And it should be — it's the country's birthday, for crying out loud!
I like to tell people that the 4th of July is like my Christmas. I get so excited about it, I have a hard time falling asleep the nights leading up to the holiday. I start a Google Doc in early June to start planning the food I want to make, the games I want to play, and the sundresses I want to wear. (Yes, I've done these things for years — even before I earned the honor of hosting the holiday at my house!) Why do I get so darn excited over the holiday? There are a ton of reasons!
1. The weather is almost always nice.
Aside from the occasional thunderstorm, the weather almost always cooperates for the 4th of July and the travel days around it. There are no below-freezing wind chills and no blizzards to worry about. Even if it's depressingly hot and humid outside, that's why man invented pools, sprinklers, and rosé.
Load up: 20 Rosés Under $20 to Drink Right Now
2. We get to hang out outside.
Because of point number one, I get to make this point. Unless you live in the South or the West Coast, the winter holidays are almost always spent indoors. As well-decorated as your dining and living rooms may be, I'd always rather be sitting around a patio table or on a picnic blanket out in the yard.
3. The food is the most fun!
Hot dogs, hamburgers, corn on on the cob, and more! Plus s'mores for dessert. All on the grill! No menu — even a Thanksgiving menu — can win in comparison.
(Image credit: kazoka/Shutterstock)
4. A keg is a perfectly acceptable signature drink.
Tell me the last time you got a keg: Maybe you had one for a birthday party or a Super Bowl party, but probably not, right? Now, name a holiday that a keg would be an appropriate choice. The only answer is the 4th of July. Get one and stash it in a bucket of ice by the patio.
Related: Should You Just Get a Keg?
5. You can play lawn games.
Perhaps you already know how I feel about Kubb? I am unapologetically obsessed with it. But even if you're not going to play it (your loss!), there are tons of other lawn games that you don't really get to play many other times of the year.
Read all about Kubb: The Lawn Game That's So Much Better than Cornhole
6. There's no stress of shopping for presents.
The 4th of July is not a holiday that warrants presents (I would happily take some if you wanted to bring me one anyway, however!). This means you don't have to worry about budgets, tracking down packages in the mail, finding the perfect gift, or fitting a trip to the mall into your already busy schedule.
7. The musical 1776 is on repeat basically all day.
Why would you want to watch 1776 over and over again? Two words: William Daniels. Still unsure? That's Mr. Feeny from Boy Meets World! He plays John Adams and he is amazing. And you should watch it!
8. There are fireworks.
I'll watch a firework show every night of the year. Sadly, this enjoyment is usually limited to the 4th of July and to New Year's Eve. At least it's warm enough to watch them comfortably in July. Bonus: Depending on your local ordinances, you can set them off in your own backyard.
Merry Christmas, everyone! Tell us in the comments how you're celebrating.