8 Allergy-Friendly Halloween Goodies for Teal Pumpkin Trick-or-Treat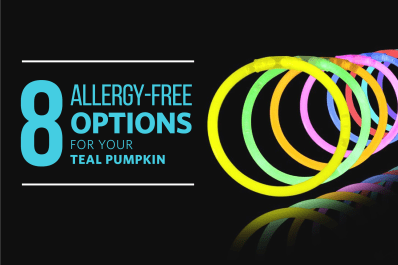 (Image credit: Amazon)
If you have a food allergy, Halloween is a great holiday to make you feel left out. For example: The house on the corner is giving out king-sized Snickers bars? Cool — but I'm super allergic to peanuts!
Fortunately we have the Teal Pumpkin Project, which encourages people to provide trick-or-treaters non-edible goodies in dedicated teal pumpkins. Want to be a neighborhood hero this Halloween? We tapped Nancy Gregory, senior director of communications at FARE, for her tips on the most fun and affordable goodies to give out to kids with allergies.
What Is the Teal Pumpkin Project?
Launched by FARE (Food Allergy Research & Education) in 2014 after being inspired by Becky Basalone (a mom who started the Teal Pumpkin Project in her own community), the initiative has since spread through all 50 states and 12 countries.
"It's really easy to get involved with the Teal Pumpkin Project," Gregory says. "You can either paint a pumpkin teal, buy a teal pumpkin at a retail chain that carries officially licensed merchandise, or just print out a free sign that announces your home is participating" (download the sign here).
Then, simply load up your teal pumpkin with non-edible treats to give out to kids with food allergies or other dietary restrictions.
Read more: What Is the Teal Pumpkin Project?
Can I Still Give Out Candy?
You can continue to give out candy treats like you usually do, but Gregory stresses the importance of keeping the non-food treats in a separate container (keep candy treats in an orange pumpkin, and the non-edible treats in a teal pumpkin).
When shopping for Halloween candy, you can also be on the lookout for products that are free of the top eight allergens (check out FARE's list of common allergens here). "Some retailers have sections of Halloween treats marked 'allergy-friendly,' and that would be a great place to start," Gregory suggests.
What Non-Edible Treats Should I Put in my Teal Pumpkin?
"There are many fun, inexpensive options you can buy in bulk," Gregory says. You can check out the initiative's suggestions here. We've also assembled a list of our own (inexpensive) suggestions to help make your very first Teal Pumpkin Project a success. Place an order on Amazon or hit the dollar store.
8 Affordable Non-Food Treats to Give Out This Halloween
Will you have allergy-free treats this year? What will you be giving out?
Kitchn supports our readers with carefully chosen product recommendations to improve life at home. You support us through our independently chosen links, many of which earn us a commission.