7 Tasty Ways to Eat Kale Stems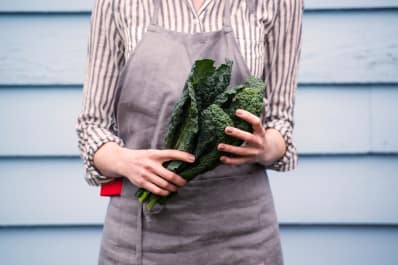 (Image credit: Anna Hoychuk/Shutterstock)
Raw kale stems are tough, chewy, and fibrous. They're not exactly appetizing when eaten as is, but with a few tricks, you can easily transform these kitchen "scraps" into something you can readily enjoy. So step away from the trash can — here are seven ways to eat those kale stems.
Why You Should Eat Your Stems
Along with cauliflower leaves and vegetable peels, we can be equally as quick to mark kale stems as scraps, pushing them straight to the trash or compost bin. Their thick, woody appearance might have you believe this part of the plant isn't meant to be eaten, but don't let appearances fool you — these stems just need a little more tending to than their leafy counterparts; when done right, you'll be amazed at just how good this "scrap" can be.
Why You Should Blanch Kale Stems
To make the stems not just edible, but also delicious, it's all about softening them up. The best way to do this is to quickly blanch these tough bits of kale in a pot of boiling water. This added step will make the rib more tender and also ease the bitter bite.
Learn How: How To Blanch Vegetables
7 Tasty Ways to Eat Kale Stems
1. Whip them into pesto.
Turn those stems into a flavorful sauce to toss with pasta, dress your veggies, or spread on sandwiches. Start by blanching the stems, and then pick your favorite pesto recipes and get blending.
Get a Recipe: Winter Greens Pesto
2. Blend them into juices and smoothies.
This is one of the rare times when you can enjoy kale stems raw — just in liquid form. Process stems through a juicer or high-powered blender to incorporate them into a smoothie.
Get a Recipe: Super-Power Morning Smoothie
3. Pickle them.
We've pickled everything from cucumbers to asparagus to avocados, so why not kale stems? Submerge the kale stems in a jar or other resealable container with a brine made of vinegar, sugar, and salt (feel free to add extra flavor with peppercorns, chilies, and garlic). As the stems soak, the brine will help them soften and pick up a ton of flavor.
Learn How: Easiest Refrigerator Pickles
4. Roast them until crispy.
Roasted veggies will always get a nod of approval, and kale stems are certainly no exception. A hot oven isn't quite enough to totally soften the stem, so it's best to blanch them before roasting.
Dress Them Up: 10 Simple Ways to Upgrade Roasted Broccoli (Try This with Kale Stems!)
5. Braise them into submission.
When it comes to braising, we typically think about meat. But veggies, especially the sturdier ones, benefit from this technique as well. Not only will they transform into something much softer, but it's also a chance to load them up with lots of extra flavor.
Get a Recipe: Lemon-Rosemary Roast Chicken with Winter Green Stems
6. Stir-fry them.
When in doubt, add them to a stir-fry. This goes for hearty collard stems, too. The quick cook time of stir-fries isn't enough to fully soften the fibrous stems, so you'll want to start by blanching them first.
Learn How: How To Stir-Fry Vegetables
7. Make them into salad.
Because really, why should kale leaves always steal the show when it comes to salad? Soften the stems first by blanching or braising, then transform these scraps into your next salad.
Try This: This Salad Wants to Change the Way You Think About Kale Stems