7 Questions to Ask Yourself Before Planning a Surprise Party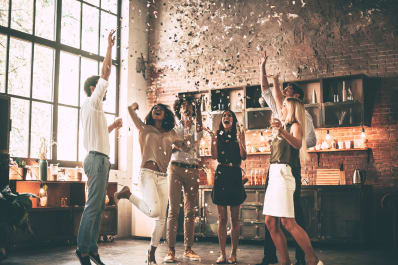 (Image credit: g-stockstudio/Getty Images)
So you wanna throw a surprise party? You're a good friend! You'll be an even better friend if you ask yourself these key questions before you get in over your head.
1. Will the birthday girl enjoy the surprise?
While you obviously have the best intentions in mind, not everyone loves a surprise. An introvert, for example, might need time to mentally prepare for a big social setting, and throwing her into one — with zero warning — might be more stressful than enjoyable. And even the most social person might not love the fact that she didn't know to dress for the occasion. Before you start planning, picture the exact moment when the surprise happens and try to imagine how your friend will react.
2. Do you know who to invite?
Would she want her coworkers there? Do you know how to get in touch with her old college friends? You don't want to leave people off the guest list and hurt anyone's feelings. But you also don't want to invite anyone you're not supposed to (her newest frenemy, for example). If you're not sure who would make the cut — or how to reach them — this is maybe not the best idea.
3. Can you actually pull it off?
Surprise parties take a lot of planning, organizing, and scheming. Do you have the time and skills to devote to the task? Honestly.
4. Are you willing to spend the money?
In addition to your time and energy, a surprise party usually requires some money. If you have it at a local bar, you might need to put down a deposit or promise a minimum amount to be spent on drinks. If you throw the party at an apartment, there are food, drinks, and decorations to consider. You might be able to get some people to help split the costs, but what if you can't? Are you okay with dropping the cash?
5. Can you keep it a surprise?
How much do you trust yourself? What about the blabbermouths on the guest list? Ideally, the party would be a surprise up until the very last minute. Will you be okay with it if she finds out ahead of time? (It really is the thought that counts!)
6. What else can you do to make it special?
Do you need a cake? Should you print out a bunch of embarrassing photos of her? Can you curate a custom playlist and ask people to suggest songs that remind them of her? The party may very well be enough, but this is still something to think about.
7. How will you get her to the party?
The most important part of any surprise party is the person you're surprising. How confident are you in your ability to coax her to a certain location at a specific time? Will she make plans to do something else that night? Does she have a reputation as a perpetual bailer? If there's any chance that the birthday girl won't show up, this is not a thing you should do!
Have you thrown a surprise party recently? How'd it go?