The 7 Cooking Tools Real College Students Say They Couldn't Live Without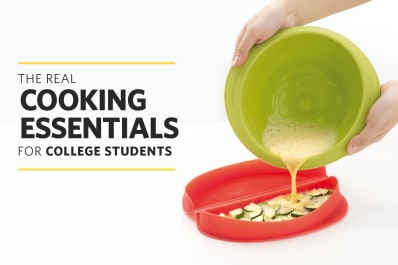 (Image credit: Amazon/Design by Susanna Hopler)
As anyone who has been a college student (or has shopped for a college student) knows, collegiate life requires a lot of stuff. Decking out a dorm room can be a blast (hello, new school supplies and decor!) but also a bit of a puzzle. What should you leave at home? What's going to help you live most effectively in a snug room with a stranger for the next year? How will you fuel up when you're too busy — or tired — to get to the dining hall?
To answer the last question, we asked real college students to weigh in. Here's what they said help them the most while living that dorm life.
1. MicroFridge, $400 at Appliances Connection
"Nothing makes my dorm room feel quite like home like my MicroFridge. Every morning since my first day of elementary school, my dad has woken me up with a bowl of oatmeal in bed. Being able to pull my milk out of the fridge, throw my bowl full of oatmeal into the adjoining microwave, and scarf it down before an 8 a.m. class is priority one." —Emmy F., Marist College
"Adapting to dorm life can be hard, especially when it comes to figuring out how to make all of the meals that you want at the most random times of the day. For me, I find the Heavy Duty Disposable Bowls to be such a life saver. Anytime I need to squeeze in a quick meal before class but can't make it down to the dining hall, I usually make SpagettiOs, oatmeal, or ramen in my microwave. The bowls are great because they're heavy duty enough that they don't go floppy when I fill them with food. Plus, it's a lot easier to just toss them when I'm done eating rather than walking down the hall to wash a bowl in the community bathroom."—Alexa M., University of Rhode Island
"The one thing I couldn't survive without at college is my KitchenAid Electric Kettle. I use it for most things I make in my dorm room, like coffee and tea, ramen, or mac and cheese." —Phoebe I., University of Connecticut
"I couldn't survive college without my Keurig. I am a big fan of coffee and it's the easiest when I have early classes. Plus, it's way more affordable than going to Dunkin' Donuts or Starbucks every day." —Morgan T., Western Connecticut State University
"I constantly rely on my Nutribullet while at school. I'm a student athlete, so I often need a quick meal after our morning workouts and before class. I'm always making protein shakes!" —Madison E., Suffolk University
"I'm a typical lazy college student, so it's great to have a George Forman Grill around when I need a quick lunch before class. It's super fast and easy to store and clean — I throw chicken breasts on there every day." —Laura W., Endicott College
"I wouldn't usually make eggs in the microwave, but desperate times call for desperate measures. With my Lékué Omelet Cooker, I can make a vegetable-heavy, protein-rich snack any time of day — or let's be honest, any time of night." —Annie B, Rutgers University
Do you have anything to add to the list?
More posts in College Eats
You are on the first post of the series.
You are on the last post of the series.
Kitchn supports our readers with carefully chosen product recommendations to improve life at home. You support us through our independently chosen links, many of which earn us a commission.